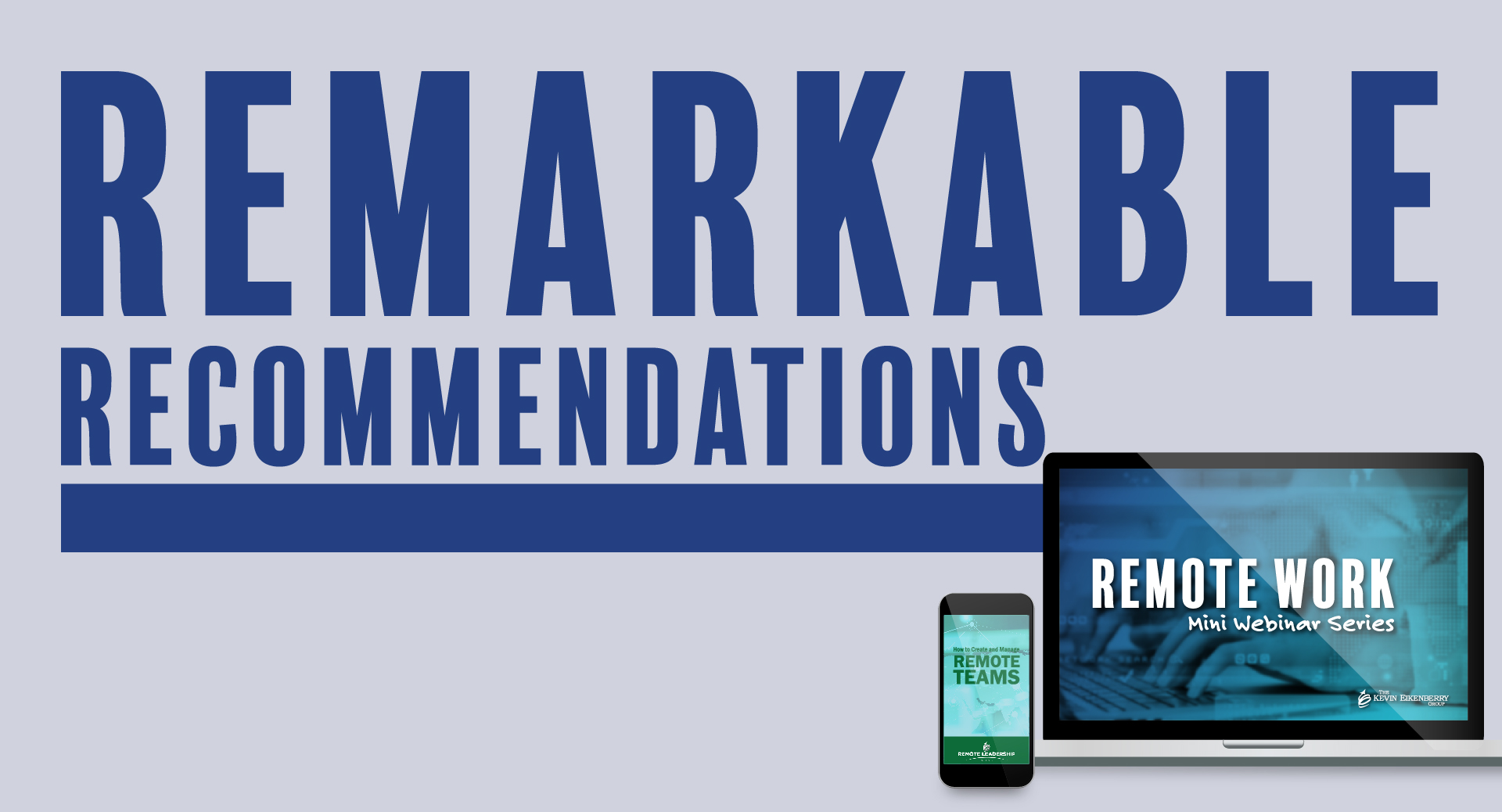 Everyone wants to help. And everyone is pivoting to help you work and lead remotely right now. But most of those well-meaning people are pivoting. At the Kevin Eikenberry Group, we have been working remotely for more than a decade. We've specifically been helping remote leaders (i.e. https://RemoteLeadershipInstitute.com ) for over five years. We know how to help you thrive as a remote team – and how to help you learn how to do it.
And while you may be trying to survive, we want to help you thrive. Here are two time-sensitive ways we can help you thrive as a remote team.
For Everyone
We get it, you are busy. And we get it that you have been sent emails about 607 (ok, maybe I exaggerate) free webinars to help you cope with working during the COVID-19 pandemic. As I've already said, we want to help too. But right now, you might not want to spend 60 more minutes in front of your screen. So, we are doing something different.
Starting Tuesday, April 7, we kickoff our Remote Work Mini-Webinar Series. Four mini-webinars, each with just 20 minutes of targeted content (and time for a short, 10-minute Q&A).
No generic content, no repurposed stuff from a long-standing, face-to-face workshops. All new content to help you thrive as a remote team and remote worker now – in April of 2020 – with everything that is going on around you. And after the four mini-webinars spread across about a week, the chance for a live Q&A with both Wayne Turmel and me –co-founders of the Remote Leadership Institute, and co-authors of The Long-Distance Leader: Rules for Remarkable Remote Leadership.
Can't make a session? No problem.
It is already past April 7? Also, no problem.
All the sessions will be recorded, and once registered, you will have access to all the recordings. Five sessions, one registration.
This series will be even more powerful if the whole team participates. Share the link with your colleagues. Share it with anyone else you know who needs to thrive as a remote team right now – suppliers, customers, teachers, and parents.
For Remote Leaders
Before all this mess happened, we decided to pull one two-hour virtual session out of our Remote Leadership Certificate Series (learn more about it and register here) and offer it independently, as a way to help remote leaders who wanted a jump start in leading their remote team.
Little did we know how important that would become.
On April 15, Wayne Turmel will lead this proven and powerful two-hour session, titled How to Create and Manage Remote Teams. This isn't a webinar. It is an in-depth, interactive, small group, virtual learning session filled with powerful ideas – more than you will get in anyone's free webinars, including ours. There will be no more than 12 people in the group, so everyone can leave knowing they are prepared to help their team succeed (and be more confident doing it).
It also isn't free. But the registration investment of $349 will start paying dividends for you and your team the minute you apply the first idea you gain.
Seats are limited. Learn more and register here.
Our Purpose
We want to be a positive, proactive voice during these challenging times. These are the latest ways we can help you build confidence and focus as a remote teammate and thrive as a remote team.