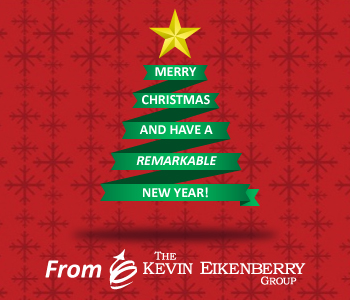 In thinking about writing this post, I worried that it might be seen in the same light as THAT Christmas letter. You know, the one you get that is all about people bragging about their family and their accomplishments? As one of my team members reminded me, that is one of the reasons people send Christmas letters, and I suppose it is one reason I am writing this post.
However, there are two other, hopefully more instructive reasons, for me to write and for you to read this post. I'll save those reasons for the end. If I've done my job they will be mostly obvious to you by that time.
Here then are some of the most important accomplishments of The Kevin Eikenberry Group in 2014.
Our team grew. We added three new team members, Laura, Lisa and Marisa, who have strengthened our team and allowed us to make the list that follows longer!
The Remote Leadership Certificate Series. In partnership with our friend, Wayne Turmel of GreatWebMeetings.com, we created a series of virtually delivered sessions to help leaders of remote teams be more confident and competent. We have delivered this series 3 times in this year, have filled the first session of 2015 and have many new products coming for remote leaders in 2015. Want to learn more about what we are up to in this area? You can learn more here – or take a free video tutorial here.
Certified our first Bud to Boss Trainers and Organizations. While we deliver public workshops, keynotes, on site workshops and Customized workshops around the content of the book From Bud to Boss, we also now have a modularized version of this workshop that we can certify others to deliver. We offer this to both consultants and trainers wanting to add this to their offerings, and to organizations who want to train their own people. Our next certification session is in February. You can learn more here.
Taking Bud to Boss to China. We are finishing work on a version of the Bud to Boss workshops customized for China, to be delivered through a licensing agreement.
Finishing a new book. In late January we'll publish our newest book, My Journey From Bud to Boss: A Guide to Navigating the Transition to Remarkable Leadership. You will hear much more about this new resource in the coming weeks. Stay tuned!
Delivered two public workshops with sponsorship partners. As I mentioned, we deliver public workshops all over the country (you can see a list here), but in 2014 a Client in Boston and an ASTD Chapter in Iowa partnered with us to put more people in workshops in their areas. We are planning to do much more of this in 2015. (Contact Marlene if you would like to learn more about doing that.)
Finished two series of e-learning courses. In partnership with Vado, a leading e-learning design firm, we have created a series of fully SCORM-compliant e-learning/online performance support modules for new supervisors (based on and branded with From Bud to Boss) and remote leadership (based on and branded with our Remote Leadership Certificate Series). If you want to learn more, contact Barb to discuss and get access to samples.
Promoted and delivered more than 45 teleseminars in our Remarkable Learning Teleseminar Series. These teleseminars covered topics of interest to professionals wanting to be better leaders, communicators and team members. To see a list of past calls (available on recordings) or a list of upcoming calls, go here.
Launched Remarkable TV. Each Tuesday starting in late January we premiered a new episode of Remarkable TV. Most episodes feature me sharing a clear and short message, action or approach to become a more effective, leader, coach, communicator and more. This series will continue far into the future, with plans to continue to improve the content and quality of these episodes!
Significant growth of DiscPersonalityTesting.com. You may not know that we offer a fully functional DISC assessment platform for individuals and team/organizational use. This year our traffic and revenue grew by a factor of 10. We are now offering additional products and services to help people understand and use the disc model to get better results as a communicator and leader.
Launched or relaunched six websites. This blog, Remarkable Communicator, Remarkable Leadership, Remarkable Coaching and Remarkable Learning were all updated or created this year, plus an internal members-only website as well.
Kevin was recognized by Inc.com. I was listed by Inc.com as one of the top 100 Leadership and Management Thinkers and recently to the top 100 Leadership Speakers list.
This isn't close to a complete list, there are many other internally important accomplishments as well as other growth measures, Client success stories and more that could have made this list – but I don't want this post to be all about us, so let me, as promised, get to some additional value for you.
Why else did I write this post?
I hope you see that many of the items listed above, while we are proud of them, have benefit for you. If we aren't providing value to our Clients and future Clients with our efforts then we are missing the mark and wasting our time. I hope that this list gives you a broader view of who we are and how we might be able to help you now and in the future.
The other direct reason for writing this is to walk my talk and be a good example for you. I've written many times, including within the last week, about the importance of reflection. When we reflect on what we have accomplished, it reminds us of those accomplishments (and perhaps our misses), and spurs us to even greater aspirations moving forward. It is our hope that you will do that reflection and that we can be a part of helping you reach those new, higher, more valuable aspirations in the coming year.