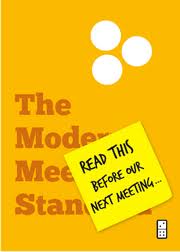 This week's Resource Recommendation is Read This Before Our Next Meeting by Al Pittampalli.
If you ever get frustrated by meetings, feel like the meetings you go to are too long, too chaotic, and not a valuable, productive use of your time, this book is for you.
This book makes a short point; it proceeds with a clear sense of purpose; it ends when it has reached its purpose. In other words, it is what a meeting ought to be!
Even with back matter the book doesn't reach 75 pages and is in a small format.  The seven principles are stated inside the front flap (on the hard cover edition – hard to have that on an e-book), so you know exactly the reference point of the author and have an outline for the book right from the start. Again, a good model for a successful meeting.
The book has some great ideas — including one that I'd never thought of, even though I have facilitated and helped others improve meetings for many years — and I think it is exactly correct (it is Principle #7 – about when to use a group to brainstorm).
And I love how the book is written. It is written as a manifesto from one colleague to another. The author writes as if he is in your organization, which is clever, refreshing, and I think makes this book powerful to share within you team or organization.
I rarely meet anyone who is completely satisfied with the productivity of the meetings they attend. This book will give you multiple ideas to help you gain that productivity. I highly recommend it.