This week's Resource Recommendation is Rainmaking Conversations: Influence, Persuade, and Sell in Any Situation by Mike Schultz and John E. Doerr.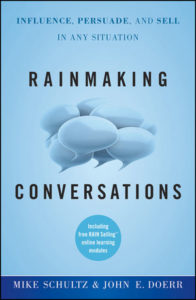 As a business owner, responsible for many rainmaking conversations, this book struck a chord with me before I even opened it. Since this is an area I always want to improve in, I opened it with hopeful expectancy.
At the same time, I have read many sales books and realized I could be disappointed or finish the book feeling I had not learned anything new.
While I'm not sure I had massive thunderbolts of insight, I am certainly glad I read this book. It covers ground that in many ways was familiar to me and will be to you too.  The book outlines the process the authors teach in their workshops and with their clients. It is a strong process and I'm sure translates very well into a workshop setting – they teach skills and application in this book, not just theory.
At the same time that the book serves as a marketing piece for their consultancy, the book stands alone and isn't a pitch. This is a serious book, written skillfully with insight peppered throughout.
Beyond the tactics and strategies for using these ideas in a selling situation, look at the subtitle. As a leader, don't you find yourself in situations where you need to influence, persuade, and sell, often? (How about everyday?) Given that fact, this book delivers massive value for leaders. Yes, it is written from a sales and marketing perspective but many of the chapters speak directly to us as leaders as well including the chapters titled:
Rapport
Balancing Advocacy and Inquiry
16 Principles of Influence in Sales
This is a well written book with application that extends beyond the author's intention. I recommend it highly.