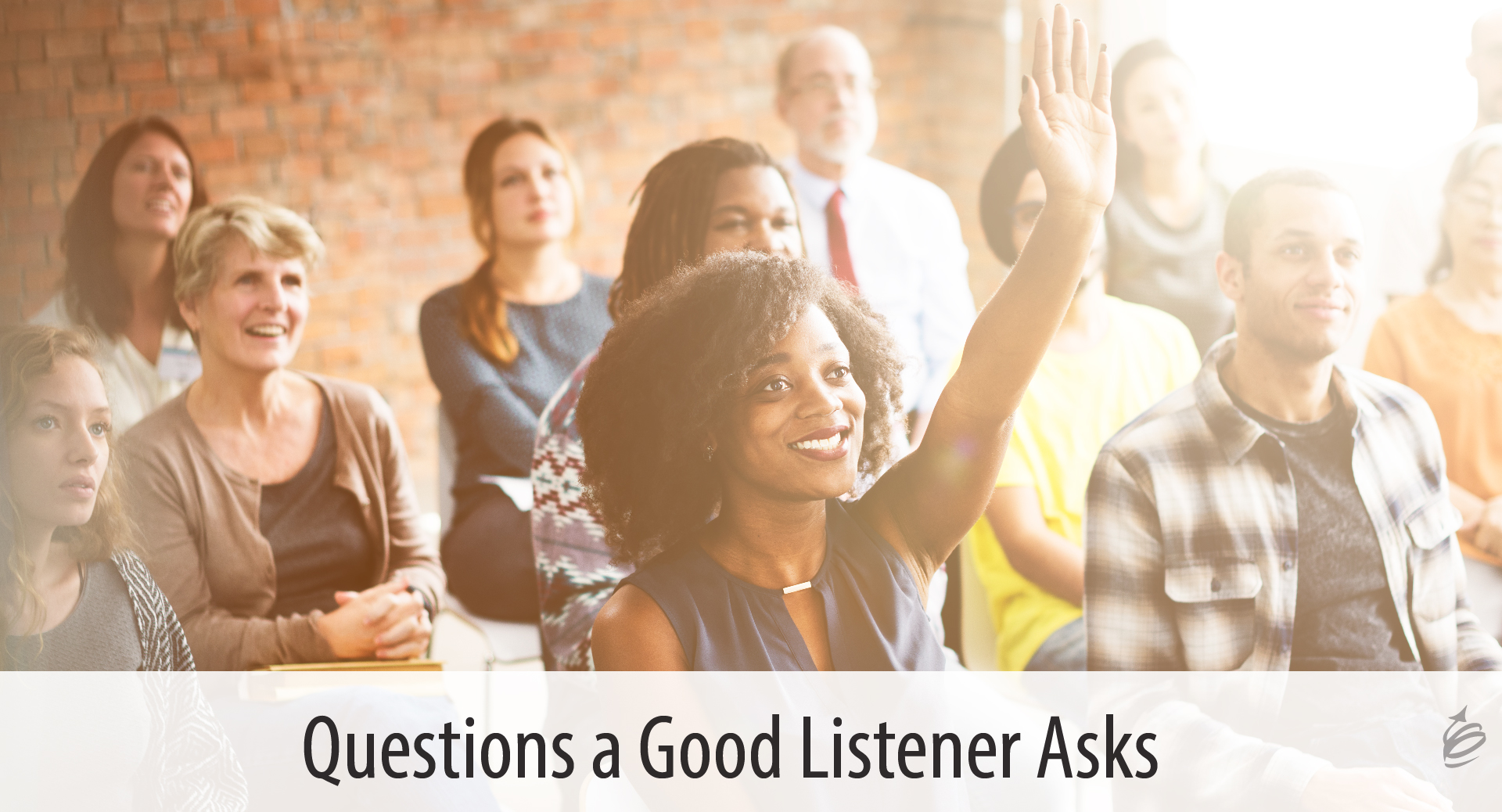 One of the ways we can tell someone is listening to us is that they are asking questions along the way. The right questions are more than a clue to the speaker, they help the listener ensure they are receiving and understand the intended message. I call these listening questions, and here is a starter list for you.
Listening Question Types
If you are looking for listening questions, it is helpful to think of the types of questions that will aid us as a listener. They fall into three categories.
Clarifying questions. Clarifying questions are asked with the intention of making sure the listen understands what is being said. These could be used when they have become distracted or are simply unclear about the message being sent. You can ask for clarification of the message itself, the context, or intent of the message.
Probing questions. One type of great listening questions are the probing questions. These shouldn't make the speaker feel like they are being interrogated, but they are used to move deeper into the message and further explore what the speaker is saying. These are the questions that help us encourage the speaker to tell us more.
Confirming questions. Good listeners want to check their understanding – to make sure they heard the message accurately. Confirming questions help us do that.
Now that we have a framework for the types of listening questions, here is a list that you can begin using immediately to be a more engaged and effective listener.
Great Listening Questions
Clarifying questions include:
Do you mean that…?
When you say x, is this what you mean?
When did it happen?
Why is that so?
Probing questions include:
Can you tell me more about the background of the situation?
That is interesting… can you tell me more…?
… and so?
What led to that conclusion/action/result?
Why was this important?
And what else?
Confirming questions include:
So what you're saying is…?
So your conclusion is…?
Am I right when I say I am hearing …?
Can you say that again? (I want to make sure I got it)
Must We Ask?
As important and powerful as questions can be as a listener, leader, coach, parent, and friend, sometimes silence, and an encouraging engaged smile can work wonders too. When people know we are listening and we stay silent and give them space, they will often naturally expound, explain, and clarify their points. The best listeners use questions but know when to stay quiet too.
Final Thoughts
Questions are building blocks of understanding and great listening tools. As we become more interested in being a better listener, we realize the value of questions to help make that happen. This isn't a complete list, but rather your starter kit. Some of these questions as written here might seem stilted. But when you use them in the natural flow of conversation, you will see how powerful they can be. Yes, some of the questions are in multiple categories because they can be used for multiple purposes, but that just means you might use them often.
…..
Building your ability to ask better questions – including as a listener – is a skill possessed by great coaches. If you want to build your confidence and competence as a coach and developer of others, join me at an upcoming Coaching with Confidence learning experience or contact us about bringing this learning experience into your organization.