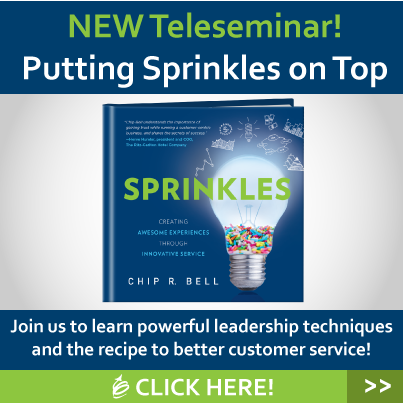 Ice cream is awesome.
In fact, I don't know many people who don't like ice cream.
And as good as ice cream is, if you can put some sprinkles on it, it makes it even better.
The same is true for a cupcake, isn't it?
Sprinkles are the metaphor for making something that is good, far better, more memorable and more meaningful.
It is this metaphor that guides the new book of America's top keynote speaker on Customer Service, Chip Bell. The new book, titled Sprinkles: Creating Awesome Experiences Through Innovative Service, officially publishes on February 10th (but you can get a copy now).
I am a fan of great Customer service, a fan of Chip Bell (I've known him for several years), and a believer in the role that we as leaders can play to expect, create and nurture great Customer experiences.
That's why when I knew this book was coming, I wanted to give you a chance to learn directly from Chip himself.
Yes, you should buy a copy of the book, but wouldn't like to spend an hour with the Master himself, listening as he dives deep into the content with ideas, practical suggestions, entertaining examples and more?
That's why we convinced Chip to lead a teleseminar for us – the day after the book's release! You can learn all about the details of this 60 minute teleseminar here (it takes place on February 11 at 1:30 pm ET). Once you check it out, I am confident that you will register to join Chip for this entertaining and valuable hour.
You can learn much more and register for this 60 minute teleseminar event here.
If you want your Customers to talk positively about you, buy longer and more often (and perhaps in larger quantities), and you want to create processes for your people to make that happen, there is no one better to learn from than Chip Bell. We've asked him to give you his best stuff for an hour. I'll be listening to the recording, and I know I will be taking many notes and implementing plenty.
Your team and your Customers will be happy you made this investment. I hope you choose to join us. Here is the link to learn more and register.