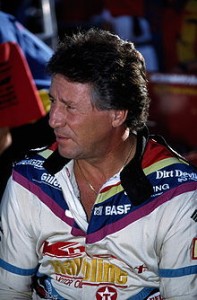 Living in Indianapolis, and being a sports fan, makes it easy to like Mario Andretti.  Mario won one Indianapolis 500 (in 1967) and came close to winning several others.  Mario won many accolades in his racing career, including being named by the Associated Press as the Racer of the Century in 2000.
In other words, it's safe to say he was pretty good at his craft.
Which means that listening to what he has to say about making the most of opportunities makes sense.
"Prepare yourself in every way you can by increasing your
knowledge and adding to your experience, so that you can
make the most of opportunity when it occurs."
– Mario Andretti, auto racing champion
Questions to Ponder
How are you preparing yourself?
How are you increasing your knowledge?
How are you increasing your experience?
Action Steps
Review your major goals, determining what knowledge would move you towards them faster.
Build a plan to learn the knowledge necessary.
Put yourself in places and situations where you will gain useful experiences.
Constantly be looking for opportunities.
My Thoughts
Reading this quotation always makes me think of the definition of luck as "opportunity meets preparation." Mario is saying in part, and I agree, that if you want more opportunities, get to work; get to work learning and get to work putting yourself in new situations.
Have you ever sat for a few hours watching television or movies, relaxing or passing the time?  During that time of passivity, were you alert to new ideas?   Were you thinking about opportunities or how to reach your goals?   My guess is that you weren't.
Have you ever been reading a book related to your work or a goal and had ideas firing all through your brain? Have phone calls and conversations seemed to come out of the blue?  Again, I think I know the answer.
Too often, people sit around waiting for an opportunity, when opportunity doesn't work like that.  Consider this:
OPPORTUNITYISNOWHERE
What do you see?
Do you see
"Opportunity is nowhere"
or do you see
"Opportunity is now here"?
Both are correct.  And, like opportunity in the real world, both are accurate, based on your viewpoint and perception.
If you want more opportunity in your life, and if you want to take advantage of the opportunities you find, get to work learning and get off the couch and experience new things and people.