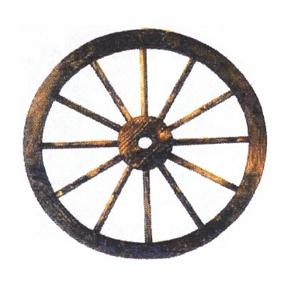 How many times have have you heard someone say, "Don't reinvent the wheel?"
Late last week I read Peter Shankman's HARO email service that Psychology Today magazine wants you to do exactly that.  Here's their request and your opportunity:
CREATIVITY CHALLENGE: CAN YOU REINVENT THE WHEEL?
Show us your reinvention of the wheel, by doing something that, to the best of your knowledge, has never been done before.
This could include writing a wheel themed poem, joke or original text, making a wheel outfit, breaking up a wheel to rebuild something novel, or refashioning one into an innovative tool or decorative object.
Any wheel of any size is fine, and you can use as many as you'd like. Send a photo of your creation, or, if your idea is not easily executed, please draw a blueprint or describe it in detail.
Send submissions to PT at carlin@psychologytoday.com, along with a brief explanation of who you are and what inspired you to take the direction you chose.
Select entries will be featured in Psychology Today's November/December issue, as part of a cover story on Creativity.
Entries are due on Wednesday, Aug. 19 at 6:00 p.m.
Am I suggesting you submit an entry?
Why not?
My point is a much bigger one.  As leaders we must both be creative and support innovation among those we lead — which means that we must practice using our own creativity and encourage others to do the same.
So I am challenging you to show your innovative leadership and I am urging you through your personal action as well as your coaching and mentoring to practice your creativity.
Make this one of your leadership activities for today:
Think about the exercise described above.  Keep an open mind and allow yourself to "think outside the wheel."
Share this post or this exercise with your organization – and share your internal results.
Remember that this is an exercise, not a contest.  Make the goal to celebrate creative potential and innovation, rather than a right answer.
p.s.  After returning from church this morning, my daughter put on the 1971 classic Willy Wonka and the Chocolate Factory (which she had TiVoed last night).  As I began thinking about ending this post, Gene Wilder sang Pure Imagination, which is of course the perfect way to end this post, because as leaders we must promote and encourage Pure Imagination!