By Andrew Sobel and Jerold Panas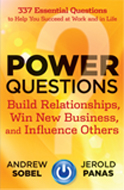 Some books I buy because they are recommended to me. Some because I have read the author before, or even know the author. Others I buy because I am interested in the topic specifically. This book falls into the latter category. In fact, I have been a long time collector of questions, so the additional line on the cover which says "337 Essential Questions to Help You Succeed in Business and Life" got my attention. Plus, I often pose questions on Twitter and use the hashtag #powerquestion. (You can follow me on Twitter for lots of questions and content!)
So while I was predisposed to this book, it became a much better buy than I anticipated. Actually the last chapter of the book is mostly what I thought the whole book would be – a list of questions to use in specific situations (293 of them to be exact) and covering a wide range of situations including:
Winning new business
Building relationships
Coaching and mentoring others
Resolving an crisis or complaint
Engaging your leadership
Engaging your employees
Evaluating a new proposal or idea
Improving your meetings
Asking for a gift
These lists are all good, though somewhat uneven in quality in my opinion.
But it is the first part of the book, the first 35 chapters that I loved. In each of these short chapters, the authors told a story about a business or personal situation where they learned or used a powerful question. They talk about the context, the outcomes and the power of that question. Then at the end of the story they have a great section called Suggestions for How to Use This Question where they dive into the power of the question, suggested times to use it, alternate versions of it and followup questions. These chapters are entertaining and very helpful.
In fact, as I am writing these words I'm thinking about re-reading one of these short chapters each morning for the next month, and seeing if can do a better job of applying those questions in that day. Not every one will match my day's activities, but I'm betting it will be a great way to build my questions skills overall.
If you want to be a more effective question asker, this book will help you – it provides more than just questions, but useful advice and inspiration to help you ask more and assert less.