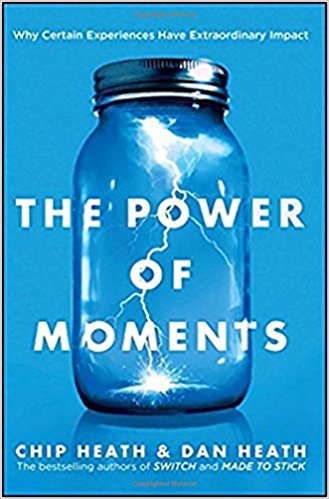 by Chip Heath and Dan Heath
Have you ever wondered why when you go on a vacation, certain moments seem to encapsulate how you feel and what you remember about the entire trip? Have you ever thought about exactly why some moments have been so memorable and important in your life's journey?
This book by brothers Chip and Dan Heath will answer those questions. More importantly, the book helps you use those reasons to create moments, rather than waiting for lightning to strike or serendipity to arrive.
You may recognize the authors as they have written the bestsellers, Switch, and Made to Stick; if you have read either of those, you will recognize their style of weaving stories and research together to make their points. Like those books, this book is extremely readable and in fact ,was a joy to read.
Unlike the other two, this book explores a topic that I hadn't thought as much about previouslyt; but certainly one worth considering.
If you are a leader, wouldn't you like to create moments that bind your team together and create greater commitment and engagement?
If you are a teacher or a coach, wouldn't you like to be able to create moments of extreme clarity and meaning for those you teach or coach?
If you are a salesperson, wouldn't you like to be able to craft moments that leave your Customers excited and pleased with their experience?
If you are a parent, wouldn't you like to create tremendous memories for your children and family?
There are just four reasons why this book might be fascinating and practical for you. The four big ideas in their frame work are easy to understand, and while creating moments with them won't be easy, it could be worth the effort and extremely gratifying for both you and others.
Moments do have power, and this book can help you understand why and how to create more of them.