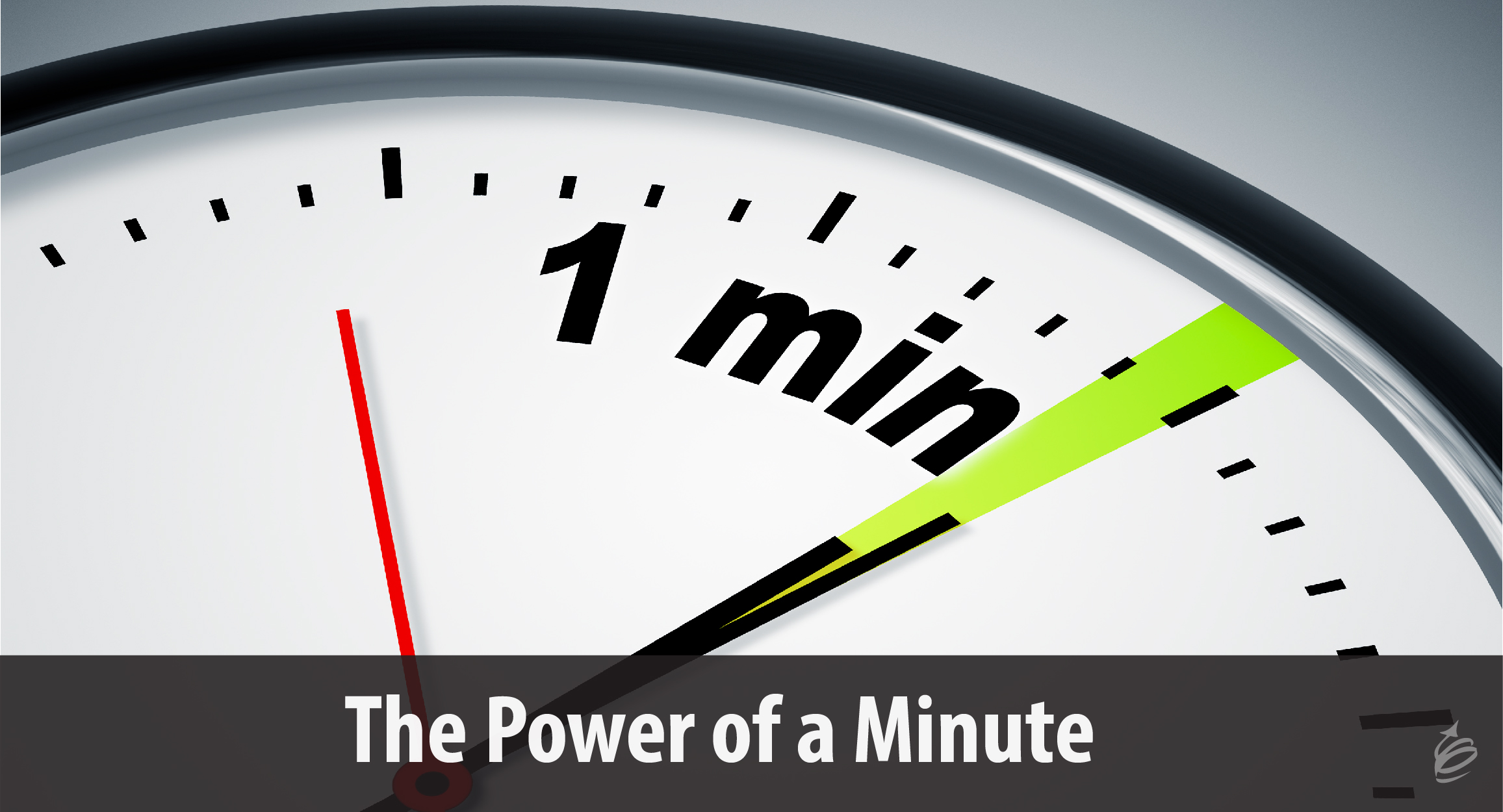 Within the last couple of months, I have recorded three episodes of Remarkable TV that talked about what you can do in five minutes, including, be more influential, coach, or learn something.
Today I am pushing the envelope further; no more thinking about five minutes, instead today, let's talk about the power of a single minute.
We've all got the same number of them – 1440 each day – and yet many of them get squandered, wasted or lost. After all it is "just a minute."
What You Can Do With a Minute
This is almost too easy – after all there are lots of things we can do in a minute. In many ways, this list makes my point. In one minute, you can…
Identify something you are grateful for
Encourage someone
Smile
Do some stretching
Listen to someone
Observe what is going on around you
Reflect on what you have learned today
Say "thank you
Notice someone's strength
Take a couple flights of stairs
Reflect on a favorite memory
This is just a start, but you can see there are magical minutes that can help you, help others, or do both at the same time. Take the next minute and add three more to your personal list of magical minutes.
How to Manufacture a Minute
I know I just said that we all have the same 1440 minutes a day. If that is true, we can't manufacture minutes, can we? Maybe not literally, but practically we can. Here is what I mean…
Most everyone I talk to has one thing in their life that they would like to do, but "don't have time for" or would like more time for. And for many of these activities, if you had fifteen minutes to do that activity each day you would feel better about yourself and achieve more. Fifteen minutes can make that difference. Here are a few of those activities people mention to me.
Read
Exercise
Work on a craft or hobby
Write
Meditate or pray
(There is an insurance company that says you can save 15% or more on your car insurance in fifteen minutes too!)
The thing you would like fifteen minutes for might not be on my list, but the fact is, fifteen minutes a day could make a real difference for you. Here's how you get it.
Some people would say, just get up fifteen minutes earlier or stay up fifteen minutes later each day. While that is logical, for most people it won't work. Here is what will work.
If you normally get up at 6:30, tomorrow morning set your alarm for 6:29. Your body won't miss that minute of sleep (like it might have missed the full fifteen). Get up and do something intentional with your new magical manufactured minute. Tomorrow, set your alarm for 6:28 and do something intentional with your two "found" minutes.
In two weeks (OK, fifteen days) you will have manufactured the minutes. Now all you do is use them for the activity you wanted to "find" time for. Voila! Chances are you can start using it for your chosen activity within the first ten days or so.
Yes, But
You may be thinking that this all sounds good, but does anyone really think this way?
Most people don't; but the people who are moving towards their goals, the leaders who are making the biggest difference in the world, and the people you look up to and admire likely do.
How people look at and value time is one of the things that distinguishes achievers from everyone else. Stated another way, achievers realize the power of a minute and use them intentionally to help them reach their goals, feel better about themselves and be happier.
Maybe you aren't ready to go all in with this idea; maybe you feel this doesn't give you any space to relax and take the world as it comes to you. You don't have to go all in, just recognize that every minute you consciously make count will make a difference in your life.