By S. Chris Edmonds and Lisa Zigarmi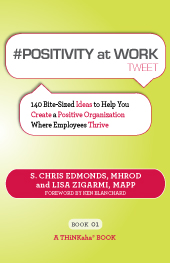 That is quite a long title – for a book with very short (and powerful) ideas!  Written as the sub title says in 140 short quotations – actually they are all tweets originally posted on Twitter – this book is super readable.  So if you are a person who doesn't read much, you will love this book.
The book is written by two top Ken Blanchard consultants, so you can be assured that the content is well considered and not just tossed together.  When you start reading, this becomes completely clear.
These tweet-length thoughts on positivity at work are divided into six sections, or chapters:
1.    A Positive Workplace – What It is and Isn't
2.    Positive Emotion at Work
3.    Positive Relationships at Work
4.    Meaning and Purpose at Work
5.    Positive Accomplishment at Work
6.    Positive Health at Work
Hopefully this shows you that the book isn't "just" about fluffy platitudes on attitude, but that it addresses the topic in a serious and useful way.
Some of the ideas are inspiring, some illuminating, some practical tips and some may leave you feeling a bit indicted. In other words, this book does what all good books do for us, even if the format is different.
Speaking of the format, this is one of about 50 books in this format in a wide range of topics (including my #LEADERSHIPtweet and soon to be produced #Creating a Learning Culture).  This approach is great for those who aren't big readers or those who like to build awareness and knowledge in a quick way.   While the format is a good one, this book, on a topic important to all of us as leaders and workers, is perhaps the best I've read in the series.
If you are looking to modify your workplace culture – or if you just want a better working environment for yourself – buy and read this book.   If you are already moving towards a more positive and supportive working culture – buy copies for those you work with – it will expand your influence and accelerate your progress.