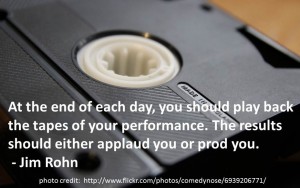 One of the most useful habits we can develop is the habit of reflecting on our days and actions.  Today's quotation reminds us of that is a visual way – so I'll share it in an image!
Questions to Ponder
– How often do I reflect on my day?
– What would my tapes tell me today?
– What did I learn today?
Action Steps
1. Put 15 minutes on your calendar at the end of your day, to reflect on your actions and results.
2. Keep that appointment!  Sit down with a piece of paper or a journal and note the lessons of your day.
3. Consider both the positive and the negative actions and results of your day, and look for lessons and applications from both.
4. Resolve to do these three steps again tomorrow and the next day and the next day . . .
My Thoughts
Consistent, intentional reflection is a core skill of continual lifelong learners.  The richness of life gives us tremendous opportunities to learn, if we take the time to look.  After all, there is a difference between the person with two years of experience and the person with one year of experience, twice.  The difference is reflection and learning from our activities.
There are many strategies and approaches to learning, and the passionate, lifelong learner applies as many as possible, yet all true continual learners apply this regularly.
Turn off the TV and turn on the tape player in your mind and review your day.
Look at what worked and what didn't.
Think about how you could apply the lessons in one place to other situations.
It is an empowering set of steps.  They don't cost you anything but time, and you will find they become a regular part of your life.