By Oren Klaff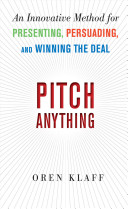 I love the way the book opens – with a pitch. Here it is:
Here's the "big idea" in 76 words: There is a fundamental disconnect between the way we pitch anything and the way it is received by our audience. As a result, at the crucial moment, when it is most important to be convincing, nine out of ten times we are not. Our most important messages have a surprisingly low chance of getting through. You need to understand why this disconnect occurs in order to overcome it, succeed and profit. This book tells you how.
I don't know about you but when I read that I knew I wanted to read this book. The author isn't a journalist or writer, he is a practitioner. He raises capital for businesses looking to grow or go public. In other words, he's made a lot of pitches.
His experience and success makes him credible. His stories are interesting, and he has made a life's work at getting better at pitching. In this book he shares what he has learned.
While he has learned by doing he has also learned by study. This shares the science behind what he has learned and why it works.
If you don't sell, "pitch" or negotiate for a living, you might think this book isn't for you. While it is true that the examples lean in the direction of the author's experience, the lessons for anyone who communicates, presents or wants to persuade are priceless. There were things here I knew and/or have read before, and there is much that is new.
This book is worth reading, applying and reading again. I'm personally in the midst of that process myself.