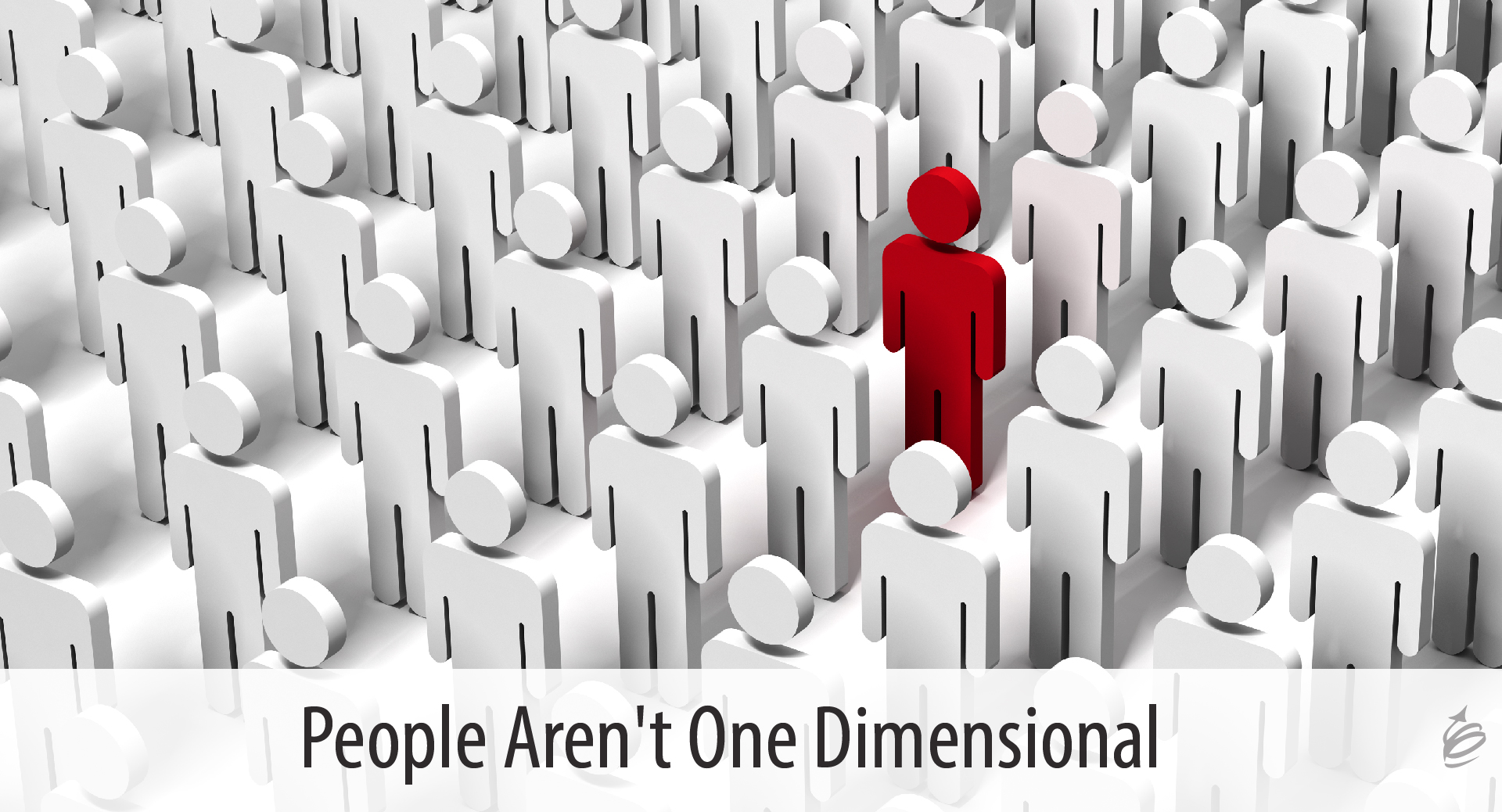 Human beings are messy and amazing. We are multi-faceted, complex, ever-changing, and wear many hats in our lives. For years, people have created models and formulas to simplify and categorize people. And for all the value those efforts and models can yield, they fall short of being the magic pill that helps us communicate with, work with, and lead individuals. People aren't one dimensional, and the best leaders focus on leading individuals, not leading people.
The Reality
When you ask people about themselves, often the first thing they say is what they do for a living. You aren't surprised when you hear people say, "I'm a firefighter," "I'm an accountant," or "I work in the oil business." While people often identify themselves with their work, there is far more to who they are.
They are single or married, sons or daughters. Perhaps they are parents. Perhaps they are cancer survivors, new home buyers, or dealing with loss. They have been hurt and disappointed by hundreds of things. They have struggled, they have won, and they have lost. In short, they live multiple lives.
The Complexity
We often look at people and mentally put them in a box. Our boxes come with labels, which can be helpful, but oversimplify people far too much. Not only is every person different, living multiple lives outside of what you see at work, but each person is literally interpreting and living the meeting you are leading or the conversation you are having or the email they are reading differently.
We each bring our past experiences, hopes, fears, and filters to each experience, which nuances what we see and how we experience it. This is neither good nor bad, it is just the complex reality we live in.
The sooner we realize this as a leader, the sooner we can become a better leader.
What We Can Do
To manage all this complexity, strive to examine, understand, acknowledge and respect how everyone is seeing life and the situation when you interact with them. When you do this, it will change the way you interact with others very quickly. It will change how people respond to you as well.
In short, when you do this, you are treating people as individuals and moving from judgement to pure observation. This approach will deepen your understanding and enrich your relationships in all parts of your life, including as a leader.
Start with the goal of understanding people's uniqueness. Then layer on the things people universally have in common. We most of all have the desire and need for security, happiness, health, a long and better life, love, purpose, and something to believe in.
Put those two things together and you can begin leading individuals not from a box, but from the rich reality that creates amazing results for your team – and yourself.
…..
Moving from being a Manager to Remarkable Leader  is a journey worth taking.  Leaders look at people more broadly and recognize that their success will come from and through those people they lead. When you join me virtually for the From Manager to Remarkable Leader learning experience, you become a part of a small group of leaders who, like you, want to learn and apply cutting-edge ideas grounded in and connected to timeless principles. This six-session, virtually delivered learning experience is packed with insights and opportunities to learn from me and your peers. Learn more, find dates, and get registered here.
If you are looking for a low-risk way to try this workshop for your organization, check this out to see if you qualify.