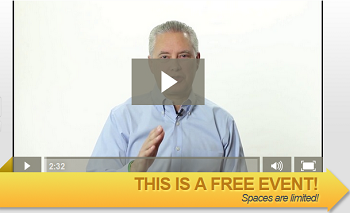 Of all the leadership questions I get asked, perhaps the most frequent relates to the negative attitudes of others. Leaders want to know how to cope, how to overcome, and how to coach negative attitudes. I have been thinking about this phenomenon for some time.
So I decided to do something about it.
I decided to create a very specific, very direct, very practical teleseminar to help answer those questions, and more importantly, give those who join me some very specific tools and approaches to doing this successfully.
If you find yourself "beaten down" by the attitudes of others…
If you see the productivity sapped out of yourself and others by negativity…
If some team members are complaining about the negativity of other team members…
Or if you find it hard to remain positive for your team… you need to join me.
On Monday, December 8th at 1 pm ET, I will give you practical ideas and solutions to overcome that negativity for yourself, and for the team as a whole.
Think about how differently each day might go for you and your team if you have ways to overcome negativity.
Think about how much less stress you and your team might experience each day (and how much less absenteeism and turnover you might experience) if you had these skills.
And think about how much more productive (and higher quality) work will get done too.
While you are thinking about these things, click this link, watch my short video, and register. I would love to have you as my guest on this very important call.
I'm going to give you practical tools, and I am going to expose the most common and dangerous mistake that leaders make when dealing with negativity.
You won't want to miss this – mark your calendar and join me!