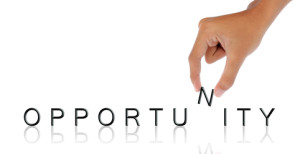 OPPORTUNITYISNOWHERE
What do you see in the title above?
Do you see "opportunity is nowhere"?
Or do you see "opportunity is now here"?
The letters are the same so both of them are "there"– and it depends on what you see as to what actions you might take next.
You have the same situation as you survey your team today.
What do you see?
Do you see opportunity every way you look, or is there no opportunity in sight?
In the context of team alignment, here is a clear fact: if you don't see opportunities and potential in your team, there isn't much sense in spending much time putting in the effort required to truly align the work, effort, and mindset of your team in a common direction.
If you look at your team and see no opportunity, the rest of this article probably won't be very helpful to you . . . unless . . . you are willing to look again, or go on faith that opportunity exists, even if you don't yet see it.
So if you are in that boat, I hope you will squint and look harder, or go on faith, because if you do, when you truly align your team, you will be amazed at the opportunities that will arise.
When we think about alignment of a team to the goals and getting efforts all moving in the same direction, it is powerful idea. Now we have a full team truly working together, with the friction and re-work reduced. Obviously, when this happens, activity becomes accomplishment and productivity improves.
And when we truly have alignment, we have something else.
Napoleon Hill called it "definiteness of purpose" – a description of the clarity individuals need to maximize their success in any realm of life. When you have true, deep, team alignment, you have "definiteness of purpose" across the team.
Have you ever noticed that when your purpose and vision is clearest, more opportunities show up around you? Have you ever lamented that you wish your team would be more aware of opportunities, and that you seem to be the only one who sees them? Do you think there might be a connection?
Now that you see the opportunity, or at least realize you might want to be looking for it, next week I will give you the biggest key to creating this definiteness of purpose.