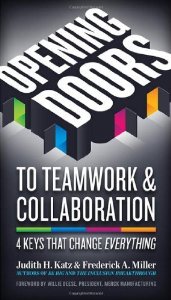 by Judith H. Katz and Frederick A. Miller
The subtitle of this book which published in May of this year is "4 Keys that change everything".  It is a big promise, and while there may be a bit of accepted hyperbole there, generally speaking the four big ideas in this book will have, when implemented, a significant positive impact on the productivity and effectiveness of teams and the individuals on them.
This is a highly readable book that does focus on how individuals can be more effective parts of a team.  Those four keys are, stated in their language:
1.  Lean into discomfort (opening the door to trust)
2. Listen as an ally (opening the door to collaboration)
3. State your intention and intensity (opening the door to understanding)
4. Share your street corner (opening the door to breakthroughs)
Throughout the well planned book the authors describe and define these for behaviors and how to do them.  They also use an interesting writing approach – writing in four different voices, denoted by different fonts and colors.  Along with writing in the voice of themselves as authors, at some points they have illustrated characters providing their insights, a (very helpful) voice that  explores the concepts in first person, and a voice that offers doubts and concerns about actually using the concepts and skills.
If you were to think about the needs of most teams – whether already pretty effective or highly dysfunctional, you would list trust, understanding, collaboration and innovation as four opportunities for improvement.  This book, in a unique and memorable way, gives insight and specific behaviors to help individuals and teams to move in those specific directions.
When you take important points, clearly illustrated and taught in a balanced, memorable and real world way, you have a winning book – which is exactly what this is.
While I hope you will consider adding this book to your reading (and implementation) list, I have a special opportunity for you to learn from and interact with the authors.  Silver members (and above) of our Remarkable Leadership Learning System will have a chance to join the authors and me for a Guest Conversation to explore collaboration and team alignment at 1 pm ET on August 15.  As a reader of this blog post you have an opportunity to join as a special guest with my compliments!
To sign up to join us for this very special event with two experts on team collaboration and growth, register here.  I look forward to you joining Judith and Frederick and me on August 15 for this very illuminating call.