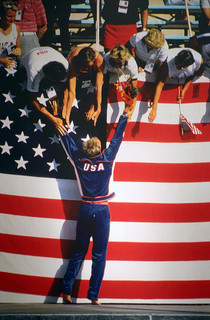 Every two years the Olympics come onto the collective consciousness of the world.  And while some watch for the pageantry, the human drama, the patriotism or the actual athletic competition (all of which can be compelling reasons), I believe there is another universal and more useful reason.
We watch to be inspired when we see achievement happen.
Even when people complain that events aren't televised live so a larger audience can be garnered in primetime – even if we know the results or have seen the pictures…
We watch to be inspired when we see achievement happen.
The human interest stories give us the backdrop.  The camera angles and the commentators give us the drama, and…
We watch to be inspired when we see achievement happen.
And as we watch that achievement, there are many lessons we can take back and apply to the goals we have set and the challenges we face, even if we will never swim in a pool, walk a balance beam or stare down a volleyball screaming towards us at 70 miles per hour.
Here are four lessons from Olympians that help them achieve and that you can immediately apply to your efforts and goals.
Achievers have routines to support their success
The best free throw shooters in basketball have a routine they follow before every free throw.  The same routine sets them up for greater success.  Swimmers, divers, and gymnasts have specific warm-ups they do before each performance.  Ever noticed how often world class performers have their eyes closed at some point in their preparation?  When you see that, know they are likely visualizing successful completion.
Do you have success-based routines that prepare you for a presentation, sales call or performance of any other professional skill?   If not, why not?  
Achievers focus on themselves, not their competitors
Listen to the interviews after the events are over.  In most cases you will hear athletes talking about their performance – the time they reached, the score they achieved, and not nearly as focused on winning as most people would think.  Does this mean they don't want to win the gold?  Of course not!  Does it mean they aren't highly competitive?  Not at all!  What it means is that world class performers compete first with themselves.  Did they do their best?  What could they do to make their performance better?  They know intuitively or from experience that the most important competition is internal.
Are you spending too much time worrying about your competition and not enough time focused on your efforts and results?
Achievers have fun achieving
After a recent race, a reporter was asking Michael Phelps about the experience.  The most prevalent word in the conversation was fun.  Michael Phelps, with more medals than any other Olympian, was focused on fun.  Have you noticed how many smiles you see on the faces of the competitors after their events, win or lose?  High-level achievers like winning and achieving, but they also enjoy the performance itself.  It is hard to be dedicated and driven enough to become world class if you don't find enjoyment in doing the work.
Are you finding the fun in reaching your goals?
Achievers are grateful for their achievements
High achievers realize that while they have to do the work required, they didn't get to the pinnacle alone.  Listen to the interviews of Olympians and you will hear gratitude to families, coaches, teammates, other competitors, fans and more.  Gratitude is a powerful and positive emotion that helps reduce stress and provides comfort.
Are you grateful and do you consciously look for ways to be grateful for your situation?
Of course there are other lessons, some perhaps more obvious. After all, if Olympic-sized achievement could be capsulized by one attribute or habit, a lot more people would achieve in that way.  I challenge you to think about one of the lessons above and integrate it into your efforts and habits.  The sooner you do that, the faster you will move towards the achievements you desire.
Photo Credit cliff1066┢'s