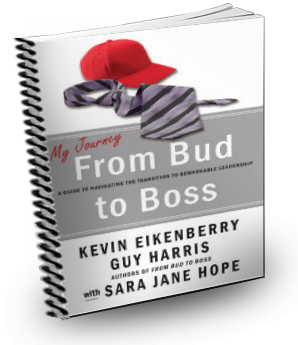 There are lots of ways to support people in learning how to do a job. The long list includes hands-on training, job shadowing, traditional training, coaching, e-learning, and reading a book.
All of these approaches have a place, and there is no one answer that is complete – because learning is a process that occurs over time.
And few new jobs require more growth and development than that of the new supervisor. Moving into a leadership role for the first time brings a myriad of changes – changes in skills, behaviors, expectations, roles, relationships and much more.
Putting these two ideas together – new leaders need support, and there needs to be more than one way to do that, led to the "book" we are announcing today.
Introducing My Journey From Bud to Boss: A Guide to Navigating the Transition to Remarkable Leadership.
We know that reading a book won't make you a great leader, nor will attending a workshop solve all of the challenges. So we created a companion to help leaders in the moment when challenges arise.
This "book" is a companion for the leader.
In fact, it isn't a book. It isn't designed to be read cover to cover – it is a wire-bound guide to help leaders deal with challenges and situations head-on and more effectively. So while we will call it a book, it isn't at all. It is a journal, a toolkit, an in-the-moment performance support tool for leaders who want to be more productive and successful.
Want to lead a meeting? There are tools to help you plan for and run that meeting.
Want to help your team become more productive? There are tools to help you diagnose what to do and how to do it.
Need to implement a change? There are tools to help you create a plan that will work.
Want to set clearer expectations with a team member? There are tools and exercises here to help you.
This is just a short list of the situations you may encounter, but did you notice the consistent word in the above list?
Tools.
My Journey From Bud to Boss is your personal toolkit and journal to help you through the challenging transition to leadership. It is the same size as the original From Bud to Boss book, so if you have both, you can carry one to support you in using the other. While attendance in a workshop or ownership of From Bud to Boss is a great help to new leaders, My Journey can stand alone and help any new leader become more successful.
While this book is completely designed to be written in, many of the tools and templates may work better in digital form, and you might want to use them more than once. We took that into account too – and every book purchase includes special access to many templates and tools in both pdf and Word document form so that you can use them over and over.
This book will be officially released in early March, but you can pre-order the book today at a deep discount. Upon release, the retail price will be $49.95. From now through February 28, you can buy copies for 50% off – just $25.
You can learn more about the details of this "book" and place your order here. If you want to discuss further discounts for bulk orders over 10, contact us.