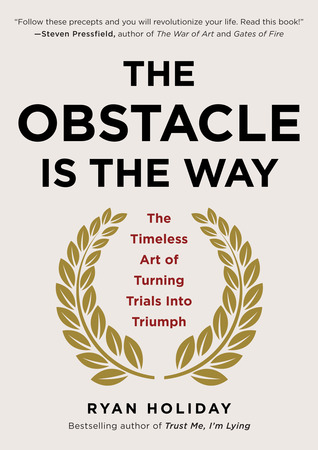 By Ryan Holiday
If you have ever been stuck or frustrated, this book might help.
Using stories and examples from a wide range of people in history (from Ulysses S. Grant to Steve Jobs to Laura Ingalls Wilder and more), the author helps us see how to use our obstacles as a stepping stone to success.
In the introduction, he quotes Marcus Aurelius with "The impediment to action advances action. What stands in the way, becomes the way." This quote really defines the premise of the book.
Most helpfully, the book provides examples, inspiration and approaches to help us understand and apply that premise. Written in short, bite-sized chapters, I have read it almost like a daily devotional, reading one chapter a day. This has helped me think about the ideas and gain inspiration from the stories.
Because you have been stuck.
You have experienced obstacles.
And this book can point you in a realistic way towards using those obstacles as a part of your ultimate success.
I recommend this well written book to inspire and inform you. It would make an excellent gift for children, colleagues and team members as well.