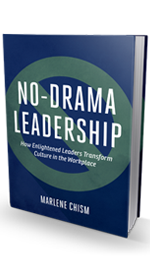 By Marlene Chism
Organizational culture is one of the buzz words bantered around by writers, trainers and consultants, like me. Unfortunately because of this, some people want to roll their eyes when they read that word.
Please don't do that.
My definition of organizational culture is "how we do things around here." And "how we do things around here" is influenced by the vision, values, and actions of the leaders. That makes culture an important part of the leader's job.
In this new (it is officially released on May 5, but you can get your copy now) book by experienced author and consultant Marlene Chism, you get solid ideas for what leaders can do to have a positive impact on culture. In three cleverly titled sections,
The Will to Be
The Eyes to See
The Power to Create
Marlene gives us the roadmap as leaders to intentionally create the organizational culture we want and need to thrive.
I had the opportunity to read an earlier draft of the book, and provide a comment about the book, which I did. I'm a fan.
Here are a few short quotations from the book, shared to give you a sense for the style, content and wisdom contained.
"If the company sees the employee as a cog in a wheel, the employee sees the company as a paycheck."
"We show our commitments not by the words we use but by the choices we make."
"Engagement is not a project or a checklist."
"A prerequisite to making enlightened choices is to declare your values. Until we declare our values, there is an accountability gap and no real alignment."
This book can make a difference for you and your team – but only if you buy it, read it, and take action.