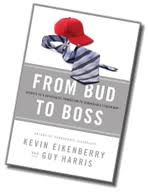 In 2010, we created a workshop and started working with new supervisors and leaders, helping them to be more successful in the transition into a leadership role.
In 2011, our book From Bud to Boss was released. Since then, both the workshops and the book have helped thousands of leaders realize what skills to build and at the same time build their confidence to implement those skills.
Over the years we have, based on Customer input and requests added a variety of other tools and approaches to help them build these skills. (You can learn about them here.)
But the think most often requested, didn't exist.
Do you have that book (From Bud to Boss) in audio?
Until recently, we could only shake our heads no.
But now, we are pleased to announce that you can listen to the full unabridged book!
If you are not a reader, but want to build your skills, now you can listen to the book.
If you have the book, or have been to the workshop, but want to listen as a way to reinforce and remind you of the lessons, now you can listen to the book.
If you have supervisors who would benefit, but don't read much; you can encourage them to listen to the book.
If you have leaders who travel by car, they can drive and listen to the book.
We are excited that auditory learners, non-readers, and others who might not have gained from the insights in the book, now can.
The transition to leadership is hard enough – we will continue to look for ways to make it easier for new leaders to gain the skills and confidence to use those skills; and the From Bud to Boss audio book is just one more way we are doing that. Learn more and order the audio version here!