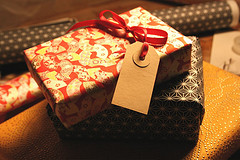 We may differ on what and why we celebrate this time of the year.  But one thing we don't differ on . . .  we all like to receive gifts! And the older I get, the more I agree with the adage that it is better to give than to receive.
So today we are giving you a holiday gift.
This gift comes in the form of a Special Report of my best writing in 2012.  Specifically it is called The Best of 2012 – 10 Articles to Support Your Leadership Development and Achievement.
As a preview, you'll learn new ideas about organizational change, love and leadership, your role in training and development, creating a rock star team, self-esteem, confidence, influence, expectations and more.
I even tell you what your employees really want – and it might not be what you think.
That is the gift – I'm bringing my best to you, believing that this gift will be a gift to you and those you lead.  There is no bow or wrapping paper, just a simple signup form (to know who you are, or confirm your contact information if we already know each other).
Thank you for reading this  – and whether you have been here many times as a loyal reader or this is your first visit, please accept this gift from my team to yours.
photo credit: allerleirau via photopin cc