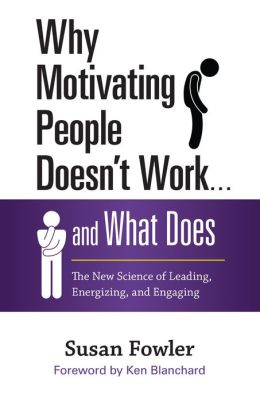 Today I am making two recommendations in one short post.
One for a book, and one for an accompanying teleseminar that we were able to "motivate" the author to lead. That author, a long time consultant, trainer, and coach Susan Fowler says: "Stop trying to motivate people. They are already, but generally in superficial, short-term ways."
She and I agree, that you can't motivate people – that is up to them.
In this book, Susan helps trainers, coaches and leaders understand what they can do to go beyond "carrot and stick" style motivation to help people not only be more productive and engaged, but to bring a renewed sense of purpose to their work.
The book highlights the latest research and puts it into context and makes it perfectly practical for us to apply everyday. Even more importantly we will learn how to apply these ideas for ourselves as well as those we coach and lead.
With such a powerful and practical book, you can see why we wanted to have Susan lead a teleseminar for us!
Would you like to spend one hour learning from a true expert in the practical applications of motivation theory?
Would you want to be able to ask your own questions of her as she guides you through a core piece of this book's contents?
Now you can!
You can join Susan on a Remarkable Learning Teleseminar on December 10 at 1:30 pm ET. In this engaging event, she will walk through a core myth-busting section of the book she calls the "Five Beliefs that Erode Workplace Motivation". These beliefs are deeply held by many of us, and Susan will help us see the problems with them and give you alternatives that will allow you to lead and coach others to high performance in ways that really work. PLUS – you'll get a free copy of her book with your registration!
If you ever look at your team and wonder how you could motivate them, you need to be on this call. You will leave with a new frame of reference and a toolkit that will help you be less frustrated and more successful, less confused and more competent and provide greater results for your team, yourself and your organization.
You can learn more and register for the teleseminar here.