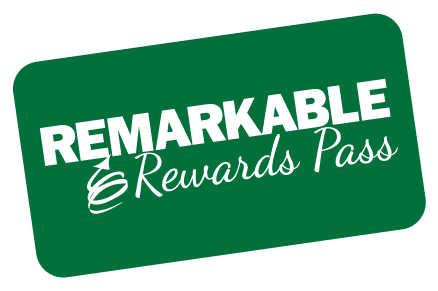 One of my favorite places to shop is Costco.
I love being able to get the high quality products I want at a lower price.  The trade-off for the lower price is that you have to buy in quantity.   This quantity thing works great for some items, less well for others.  Take Jif peanut butter for example.  It is the best peanut butter on the market, in my opinion.  And while I won't use two big jars in one day, I will use it all in a reasonable amount of time – and long before there are any product quality issues.
Our newest offering for you is like me buying my favorite products at Costco – great products, in bulk, at a discount.  With all due respect to Costco, our offer is even better (more on that in a minute).
Introducing the Remarkable Rewards Pass.
A Remarkable Rewards Pass allows you buy our upcoming teleseminars at a discount when you buy in bulk.  As we have been doing for the last several months, our Remarkable Learning Teleseminars are offered about once/week – featuring me, others on our team and other world class experts sharing lessons and practical ideas in the broad areas of leadership, communications, and relationship building. (You can see a sample listing of our upcoming sessions here).
Unlike Costco which says, if you want JIF, it is two big jars, and if you want organic chicken broth it must be 12 cans, we are giving you a bit more choice in the matter!
You can pre-purchase 3, 6, 9, or 12 teleseminars.  These can be redeemed at any time in the future and for each session you can include as many people as you can put on one phone line.
And you can choose your Pass for the live teleseminars, or for the live sessions, plus a CD of each session to add to your personal or organizational library for future skill development.  At an average of about $149 (or $199 with the CD), like Costco it is hard to find a better value for your money.
But Wait, There's More!
Every Pass membership – whether for 3, 6, 9, or 12 sessions, with our without the CD option, grants you one subscription to our monthly Insider newsletter.  This newsletter, valued at $29/month (and never sold for less than $129/year) is like a monthly workshop in your mailbox, filled with valuable leadership ideas, lessons and strategies.
And if you buy a 9 or 12 session membership, we throw in one more additional teleseminar for free. Plus because we know how committed you are to learning, you will have a say in helping select titles and speakers for future sessions as we give you a chance to make requests based on your specific needs.
Even Costco doesn't do that!
This bulk pricing reflects our past pricing – which is going up at the start of 2013 by $30/session – so your Remarkable Rewards Pass gets you about a 15% savings, plus the bonuses I just mentioned!
As the year comes to a close, it is the perfect time to start planning for your personal, team or organizational learning in 2013 – and if you buy your pass now, you can get the savings, the bonuses, and get it all in your 2012 budget (or contact us and we can arrange for payment in January if the 2013 budget is better for you).
You can get more details and request your Pass here.