By Sarah Miller Caldicott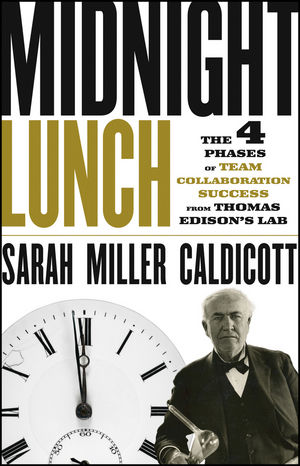 The premise is cool: learning about collaborative teams from the great grand-niece of Thomas Edison.  I bought the book based on that premise and a recommendation.
What I found was a book that has lots of insights about Edison and his working style, approach and beliefs.  Since I have read quite a bit about Edison, some wasn't completely new to me, but the context made even the familiar parts interesting, and of course there was much I didn't know as well.  And to the credit of the author, she shares some of Edison's weaknesses, and discusses how to avoid or beware of those same things.
The book however isn't a history book – it is written as a handbook for leaders of teams, building a model based on Edison's approaches that can be applied today.   The alliterative model proposed is:
Phase 1  – Capacity – creating foundations for collaboration to thrive
Phase 2 – Context – How context accelerates collaboration and innovation
Phase 3 – Coherence – Building coherent teams
Phase 4 – Complexity – Forming smart layers and developing collective intelligence
While some of the earlier chapters were hard for me to get through, in the end I found the book valuable (or I wouldn't be writing about it). Personally, I liked the section on complexity the best.  There is especially good thinking here about how individuals prepare for and contribute to teams in meaningful ways. If you want to challenge your thinking about how you structure, manage and lead teams, this book will give you ideas.  Put together with the interesting anecdotes and connections to a legend who is far more than a lone inventor and you have a book worth reading.