By David Meerman Scott and Richard Jurek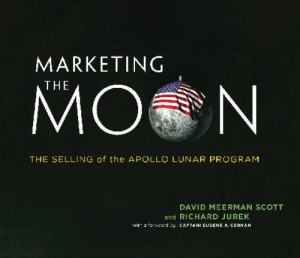 It took more than science to get us to the moon – it took storytelling.
This book tells us that story – an important part of the Moon program not yet ever explored in this way.
Take two marketing and PR professionals with a passion for the history of the Apollo program and you get this book – part coffee table book, part marketing textbook and part history lesson.
Marketing of the Moon is a coffee table-sized book, beautifully laid out with historical documents, images and advertisements woven throughout. It is worth recommending to space, science or history buffs for these reasons alone (even if you never read the words!).
But once you read the words, you find this book excels in delivering on the promise of the book's title.
The book walks through the major parts of the PR and marketing of the Apollo program – starting with the NASA Public Affairs group, to the network television coverage, to the commercial partner promotions. Written as history with copious references, it can also serve as a playbook to help you think about marketing your product, service or idea.
For these reasons the book attracted me – I enjoy history and I'm a bit too young to remember the growth of the program in the sixties (I do remember watching Neil Armstrong step on the moon though!), so I learned much in this regard. But also from the marketing perspective, this book would be useful to those in that profession and those starting or running business. I recommend that you buy this book.