By Richard Farson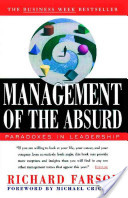 According to Dictionary.com, paradox is defined as:
a statement or proposition that seems self-contradictory or absurd but in reality expresses a possible truth.
a self-contradictory and false proposition.
any person, thing, or situation exhibiting an apparently contradictory nature.
an opinion or statement contrary to commonly accepted opinion.
I operate as a consultant in a world where clients ask for, and in many ways I am pressured to give, simple answers. Leaders want quick fixes to understand complexity and make progress. It is human nature to want to solve a problem as easily as possible.
Yet, the world is too complex for all of that.
This book was recommended to me by a coaching client because he thought I would enjoy it (I don't think he was sending a message that I am overly simplistic, at least I hope not) – and he was right.
This relatively short book (170 pages) is broken up into short chapters, with titles highlighting the paradoxes. Let me give you a few for an example:
The opposite of a profound truth is also true.
Nothing is as invisible as the obvious.
The more important the relationship, the less skill matters.
Once you find a management technique that works, give it up.
Effective managers are not in control.
Actually those are the first five chapters. Are you intrigued yet?
The book will challenge you. The book will make you think. The book will make you smile, and maybe even laugh or cry. It was written in 1996 and just found its way to my shelf, where it will stay until I decide to pick it up and read some of it again.
Here is one snippet from the chapter "Once you find a management technique that works, give it up."
"The better managers transcend technique. Having acquired many techniques in their development as professionals, they succeed precisely by leaving technique behind."
Indeed.
This is just one important idea, a paradox if you will, from this marvelous book.
My only problems with the book are:
With small chapters it should be easy to put down and pick up again, yet I wanted to keep reading.
While the writing is good and I want to keep reading, the concepts beg further thought, which means I should stop reading and think.
Even my two challenges with the book are paradoxes.
Buy a copy and read it – it would be absurd not to.