One of the most written about (and therefore most quoted) people in history is Abraham Lincoln. Given that, it would make sense to share some of Abe's wisdom here. Today, I share one I profoundly agree with, but don't remember reading before. I hope it challenges and excites you as much as it does me.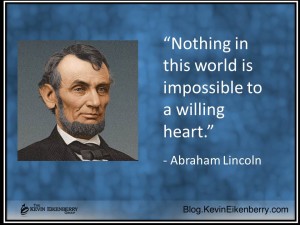 Questions to Ponder
– What do I see as impossible?
– What is something that happened that I previously thought impossible?
– What made it happen?
Action Steps
1. Think about your passions and your fondest wishes.
2.  Apply those intently and intentionally on barriers that seem insurmountable.
3.  Remind yourself of today's quotation daily.
My Thoughts
A willing heart. What does that mean? I believe it means having deeply held values and beliefs. It means an openness to finding new solutions. It means a steadfast purpose. How do I come up with those words? When you look at the life of President Lincoln and think about the "impossible" things he helped happen in our country, you see all of those things.
All of us face obstacles that seem insurmountable – things that seem impossible. A willing heart doesn't lose faith and keeps firmly focused on the desirable outcome, no matter how "impossible" it might seem at any moment. Look around you at this moment – there are likely several things near you (including the device you are reading this on) that at some point people would have said were "impossible." With a willing heart and a willingness to work, who knows what might happen next.