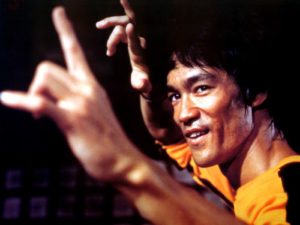 I didn't grow up a Bruce Lee fan.  I knew who he was, was aware that he died far too young, and, until the last few years, that was about all I knew or thought about him.
Until I met Dwight Woods.
Dwight was personally trained in martial arts by one of Bruce Lee's students.  Dwight owns a martial arts studio in Miami, and is one of the most disciplined and talented guys I know.
What I know about Bruce Lee, I've learned through Dwight.  And the more I learn, the more impressed I've become.  Thanks to Dwight, I am a big fan of Bruce Lee, the man.  So when I read this quotation recently, it had a big impact on me.  I hope it does for you as well.
Absorb what is useful, discard what is not, add what is uniquely your own.
–  Bruce Lee, martial arts legend, actor
Questions to Ponder
What have I absorbed lately?
What have I discarded?
What will I add?
Action Steps
Open your mind to ideas and situations that will give you new inputs.
Consider those inputs from the perspective of this quotation.
Absorb, discard, and add accordingly.
Repeat regularly.
My Thoughts
There are many ways you could interpret and act on this quotation, here's one. . .
Think about this short phrase a way to interpret feedback you receive.  When you receive feedback, whether requested or not, you have these basic choices – absorb, discard, and add.   If you will remind yourself of this choice and then listen to the feedback or advice with this choice in mind, you will accept the feedback more successfully (which likely improves the relationship and trust with the other person), and be in a better position to use it.
If you are open and consciously thinking about absorb, discard, and add, you will be in denial less, and take all feedback as fodder for your personal growth and improvement.
It's one more step on your path for reaching your potential and becoming your best self.
And  . . .
Lastly, for a powerful lesson in goal-setting and intentionality, go to Dwight's UMAA site and read the statement near the top right of the page written by Bruce Lee in 1969.  Then read it again.   Then write your own statement.