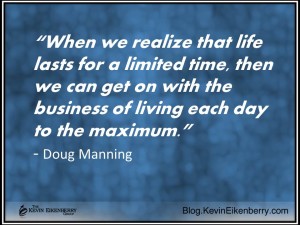 Perhaps this quotation speaks to me more while I am on vacation, but I believe its message is for all of us, everyday.  Today's questions and action steps take a more personal focus than they sometimes do, and I hope you take them seriously, and most of all take action.
Questions to Ponder
– What percentage of the time do I feel I am living my life to the maximum?
– In what places or situations do I do this best?
– How can I put myself in those places and situations more often?
Action Steps
1. Look at those around you who have greater challenges and struggles than you do, then:
2. Do something to help them in some way if possible.
3. Realize how fortunate and blessed you are.
4.  Make more of your day, knowing this fact!
My Thoughts
Yep, our time in life is limited. And that limited resource starts with time. Each day, we all get the same amount of it. It comes down to how we use it. The choices we make about our time will determine what we get from it. The quotation focuses us on our recognition of this fact, and then, more importantly, the action we must take to capture the most from our days.
I urge you to decide now to make today a maximum day!