By Jeremy Eden and Terri Long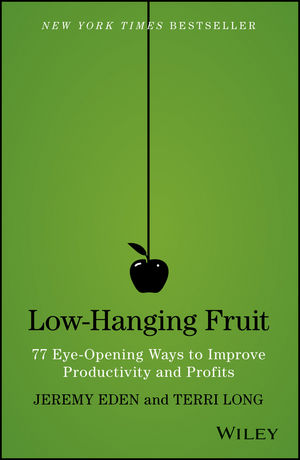 I've always loved the idea of low hanging fruit. When I was a kid and was paid to pick black raspberries (a dime a pint!), the low hanging fruit wasn't a phrase, it was a practical reality – the fruit closer to me and closer to the ground was the easiest to pick!
Over my professional life, I have heard and used this phrase to define working on the easier things first – which in many cases is a wise idea. After all – some forward motion on something easy is better than no action on something else.
All of that is prelude to me seeing the release of this book in late February – the title and big idea drew me to it – though I admit that the boast of 77 ways seemed a bit hard to believe.
Then I read the book.
The book is based on this idea of finding small ways to make a big difference – call it low hanging fruit, call it leverage, call it a chance to take action – whatever you want to call it, these ideas will help.
There are 77 ideas in 77 short chapters – some just a page in length. This format makes the book easy to pick up and work with – perhaps even challenging yourself to apply one per day or week as a way to use the great ideas available.
The chapters/ideas are arranged in some great sections too – making it easier to apply the ideas intentionally based on your particular needs. The sections include:
Spotting problems (finding your low hanging fruit)
Solving problems
Motivating your team to harvest low hanging fruit
Getting everyone on one team
Accountability
Time management
This is a well written and easy to read book. It isn't a novel and probably won't be best enjoyed or utilized as a straight-through read. Rather it is something to pick up, read and apply, and do that over and over. Perhaps at least 77 times.