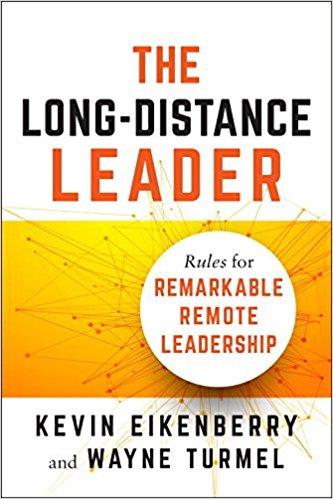 by Kevin Eikenberry and Wayne Turmel
If you lead a team, chances are, one or more of them isn't in the same location as you all the time. They work from home two days a week, or every day. Some may work in a different zip code or time zone.
If this is you, congratulations; you are a Long-Distance Leader.
As I publish this post, my co-author Wayne Turmel and I are polishing the manuscript and I am more confident than the day we signed the contract that this is going to be an important book.
Wayne and I, through our Remote Leadership Institute, have been working with, consulting, coaching and teaching leaders how to navigate the nuances of leading a team that isn't all in the same place for several years. And further, the team that is The Kevin Eikenberry Group is spread our nearly from coast to coast, many whom I only see a couple times a year.
In other words, we know what we are talking about, when talking about Remote Leaders and their teams.
Here is the big idea of the book – The principles of leadership haven't changed as our people have dispersed. But the nuances of leading a remote team are important and if we don't consider those changes, our results will be reduced and the stress – for everyone involved – will grow.
If you are a follower of our work and a reader of this blog, you will hear more about this book in the coming months – the book won't be released until May. But if you pre-order a copy on Amazon now and email a copy of your receipt to Adrienne, you will be entered into a drawing for one of five Advanced Reader Copies – the drafts that are printed for media and more. Which means if you take action now, you may be able to read the pre-release of the book about four months before you get your "official" copy.
Yes, I am writing the book, and yes, I am biased; but if you lead a remote team you will want a copy of the book. Pre-ordering now guarantees you will get a copy – and you might get a big jump start on everyone else.
POST UPDATE:
Since the book launch in June 2018, we are offering new and different bonuses with the purchase of The Long-Distance Leader. To learn more and order a copy, visit the book site here.