I live in Indianapolis, Indiana. When I travel and people find out where I live, one of the questions I get asked is, "Have you ever been to the Indianapolis 500?" The answer is, yes I have. I've been purely as a spectator several times and in 1986 I was there as a part of the Purdue All American Marching Band, marching on the track and playing The Star Spangled Banner and Back Home Again in Indiana before the call for "Gentleman, start your engines."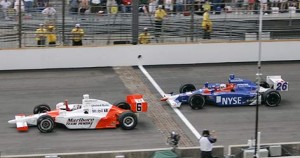 While I don't go every year, the race that I most wish I had attended was in 2006.  Why 2006?  Because the finish was so spectacular and so close. I watched it on TV, but it isn't the same as having been there.
How close was it?
Sam Hornish, Jr. edged Marco Andretti by .0635 of a second.
500 miles and a difference of .0635 second.
For the victory, Sam Hornish will always be known as a winner of the Indianapolis 500, will have his face on the Borg Warner Trophy (one of the most famous trophies in all of sports), and he received a check for $1,744,855.  Andretti, for his amazing second place finish, received a check too – except his was for $698,505.
$1,046,350 for a difference of .0635 second. (That's almost a billion dollars/hour!)
Was Hornish a million dollars better of a driver than Andretti that day (or any day)?  You wouldn't think so, yet that was the difference in their checks.
How long is .0635 second? Slightly longer than the average eye blink.
Do you think that Andretti's crew and he himself all thought of many little things that might have made the difference between making history and being a footnote?  Any one of those infinitesimally little things could have made the difference.
I could share other stories to make this same point – but all of them would lead to one of my favorite quotes from the very quotable Bruce Barton, a businessman and Congressman.  He said: "Sometimes when I consider what tremendous consequences come from little things – a chance word, a tap on the shoulder, or a penny dropped on a newsstand – I am tempted to think – there are no little things."
What do you bet Marco Andretti would agree?
A number of years ago, a very popular book was written that urged us not to sweat the small stuff. I understand the lesson and logic in that message, yet, I believe as leaders, it is the message of the 2006 Indy 500 that is more important – maybe there isn't any small stuff.
Yes, we have to pick our spots.  As leaders, one of those places is in how we coach and delegate.  Too often, leaders micro-manage people and projects, trying to get things "just right."  While there is nothing wrong with that intention, I would propose that in getting that 1% improvement, by doing it our way (which might not even be an improvement at all), we run the risk of alienating or discouraging those to whom we have given responsibility, which may also seem a small thing, but is likely a much bigger thing, with bigger implications than the small improvement we were trying to secure.
What are some of the little things for us to think about and consider as leaders?
Our attitude.
Our support.
Our example.
Our belief in the project or people.
Our willingness to listen.
These are but a few examples of little things that make a huge difference in the results we can achieve.
When was the last time you asked someone's opinion, listened, and then took their advice?
When was the last time you said thank you to someone in another department?
When was the last time you helped someone take a task off of their to-do list?
When was the last time you smiled and said good morning?
When was the last time you told someone specifically what they were doing well?
I could go on, but must I?
Napoleon Hill wrote "little hinges swing big doors."  As leaders, we are trying to swing big doors – improve our businesses or departments, make a better product or service, and a hundred other things. All of them are the things that can make a difference in the world around us. And while it takes big ideas, the details matter too. The little things make a bigger difference than we think about or remember.
Remarkable Principle:  Little things can make a huge difference.  As a Remarkable Leader, we must both remember that, and identify which little things will contribute to that difference.