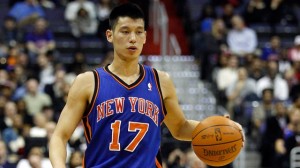 Perhaps you've heard of Jeremy Lin and "Linsanity", or perhaps you don't follow sports at all.  In case you haven't or don't, let me give you some background.
Jeremy Lin is a 6'3″ basketball player.  He went 32-1 as a high school senior and helped his team win a California State Championship, and even though he was first team All State and Northern California Player of the Year, and a 4.2 GPA student, he got no Division 1 scholarships – not even from his hometown, dream college, Stanford.
Harvard offered him the chance to play, but as an Ivy League school, without a scholarship.   He went to Harvard, graduated with a 3.1 in economics and played basketball.   Very well.  He was Second Team All Ivy Leagues as a sophomore, and First team as a Junior and Senior.  In that senior year, Harvard set records for wins, conference wins and road wins, and Jeremy, according my research,  finished his career as the first player in the history of the Ivy League to record at least 1,450 points, grab over 450 rebounds, make over 400 assists and produce over 200 steals.
The NBA draft came and went  – and he wasn't drafted.  Maybe that shouldn't be a big surprise since the last player from Harvard to play in the NBA had been in 1954.   While he wasn't drafted, he eventually got offers from several teams and signed with his hometown Golden State Warriors for the 2010-11 season.  During that season, he played in 29 games for an average of less than 10 minutes per game. One reason he didn't play more games is that he was "demoted" to the Developmental League a few times during the year (where he excelled with extended playing time).
This season, he was released by the Warriors and eventually signed by the New York Knicks.  According to the New York Post and Wikipedia, the Knicks were considering releasing him before February 10 of this year when his contract would become guaranteed.  They could release him and sign a new player – after all he was the third string point guard and had only played 55 minutes in the team's first 23 games.
Then it happened.
Given the chance to start a game after a particularly poor team performance on February 3rd, Lin made the best of his opportunity.  In the next five games – all Knick wins (not bad for a team playing with missing stars and a losing record) –  Lin scored 25, 28, 23, 38 and 20 points.   These were the most ever in the modern NBA for a player in his first 3, 4 and 5 starts of his career.   He became the first NBA player to score at least 20 points and have seven assists in each of his first five starts.
Linsanity is the word people have been using to describe what has happened.
Much of the popular press story here has been about the fact that Jeremy is an Asian American, and there haven't been many players of Asian descent play in the NBA.  While there may be parts of this story that could be explored from that perspective, that isn't my goal here.
Wise and talented scouts didn't sign him to a scholarship – it's not like no one knew he existed, they just didn't believe in him.
Every NBA team could have signed him – its not like they never saw him excel at Harvard.
Kobe Bryant, 11-time NBA All-Star said, after Jeremy guarded him and outscored him 38-34 in a recent game, "Players playing that well don't usually come out of nowhere. It seems like they come out of nowhere, but if you can go back and take a look, his skill level was probably there from the beginning. It probably just went unnoticed." [italics mine]
Coaches and scouts thought they knew Jeremy's skills.  They had decided he was a third string guard, and so he was.
Or was he?
Story time is over, now this is about you as a leader.
Who is your Jeremy Lin?  Who on your team have you "decided" on?  I'm not talking about your high potential person on that list in the succession plan.  I'm talking about your third stringer, the person that you "know" will always be a marginal performer.
What do you really know?
Have you given them reins and a chance to perform?
Or are you stifling them with your assessment of their potential?
Jeremy Lin is a basketball player.   He has, and is, working hard at his craft.  He certainly hasn't given up or felt sorry for himself, but this story is as much about coaches and scouts and leaders as is it about Jeremy.
The best leaders look for and see the potential in their team members.  If you don't see it, you won't give people an opportunity to use it, develop it, and move towards that potential.
Do you see third string guards or Jeremy Lins?
Be careful what you look for, you are very likely to find it.