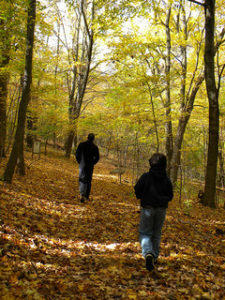 I, like many people feel I learned so much from my father.   He was my first boss as well as my Dad, so I learned about Leadership and Customer Service as well as learning about life.
Knowing that I wanted to write this and post it the day after we celebrate Father's Day, I decided to go to social media (which I am not sure what my Dad would have thought about) to find out the lessons others have learned from their fathers.
I asked on Facebook and Twitter, and the Twitter question went a bit viral (you can see all of the responses, many coming in I'm sure after I finished writing this) by searching on #dadlesson.
I've received answers from Customers, family members, famous people and people from, for all I can tell, all walks of life. In reading through the responses I found several common themes. What follows are specific responses I received, sorted and directly quoted.   (I thank everyone who has participated in helping me write this article!)
Goals and Goal Achievement
If I aim at nothing, I'll be sure to hit it.
Look ahead
Don't waste time – you'll never get it back.
Have and operate from your priorities / Keep your priorities straight
Never give up on yourself
Be decisive or someone else will decide for you
In an Easter Egg Hunt, don't collect the eggs closest to the starting line-RUN to the farthest eggs, and work backwards!
Communication
Deeds matter more than words
Go ask your mother  (mentioned more than once)
Successful Relationships
You need to make friends wherever you go and be able to talk with the janitor and the CEO with equal ease.
Tolerance of those who have an opinion that's different from your own. (mentioned several times)
Disagreements turn good people bad
Always be kind no matter the situation
Be nice all of the time
To not hold a grudge. He respectfully disagreed with many. And he fought for what is right, but then it would be over.
It's never too late to let your kids know you love them
The best way to show your children what love is, is to love their mother
Never give up on others
USE your sense of humor.
Hard Work
Always work hard
Whatever you do, do with your might; things done by halves are never done right
Whatever you do…do it right.
Practice like you play
Keep the pedals moving; the faster you go, the better off you'll be!
Always do your best the first time – you don't know when you will get a second chance
Work hard, learn to use your hands
Values and Beliefs
Stand for something and be willing to accept what comes with your beliefs.
A man is nothing without his word.
Have a little faith
Put God first and all else will come.
1. God first. 2. Family second. 3. Life is full of second chances.
Chaos is the beginning of order
Personal Qualities
To be honest and fair and true to yourself. He always said "I have to look at myself in the mirror every day."
Patience (mentioned more than once)
Perspective
Crying isn't a sign of weakness. Emotions matter.
Role Modeling
Deeds matter more than words (I know it is a duplicate, but it belongs both places!)
Actions speak louder than words. He never said this to me but he demonstrated it every day.
Learn to follow before trying to lead
Do YOUR best; don't worry about being THE best.
How not to be a father / What not to do
How does this relate to leadership?
If you are like me, while you didn't write them, at least a few of these resonate from your dad too – and even if not, you can see these as fatherly lessons.  Yet they are more than that, aren't they?
I have written before that as we become a better leader we become a better human being. The reverse is also true.   Go back and read the lessons above not with the your "Father" filter, but with the "leader" filter. Many of these lessons will apply to your professional and leadership work at least as well as they do in the rest of your life.
I leave you with three specific tasks for using this list.
1.    Read back through the list again, with the "leader" filter, and find one that you can apply to your work today, this week, and beyond.
2.    Think about the lessons you learned from your father and apply them to your work as a leader and professional.
3.    If you can, tell your dad how you are using his lessons.
Father's Day may have passed, but with lessons like this, you can celebrate it through your actions, every day.

Photo Credit my camera and me