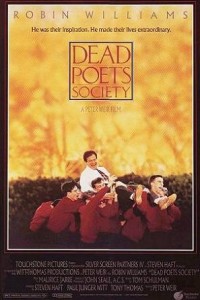 A few weeks ago I recommended a movie not because I am a movie critic, but because it could be used to learn and reflect from in our role as a leader. (Check out that recommendation for 12 Angry Men here.)
This week, in light of the recent death of Robin Williams, I have decided to do that again, with my favorite Robin Williams movie, Dead Poets Society.
Dead Poets Society, released in 1989, stars Williams as an elite prep school English teacher. The story line revolves around a group of students and their lessons (powerful and tragic) learned from growing up and through their interactions with Williams, as their teacher, Mr. Keating.
If you have seen this movie, even if it was a long time ago, you likely agree with me that it is a powerful movie. It is one of those movies that put a phrase into the language and collective psyche – in this case "carpe diem."
Rather than telling you what you will learn, let me just give you some filters to watch the movie through – by this I mean some themes you might notice that you could apply to your real life and real work today, whether you are a leader, trainer, parent or lifelong learner.
Filters to Consider/Questions to Ask Yourself
What can you learn about learning?
What can you learn about helping others learn?
How do you feel about the influence Mr. Keating had on the students?
What insights into influence, persuasion, and inspiration can you take from this movie?
What leadership lessons do you see here?
In what ways does this remind you of your work?
Final Thoughts
While you can watch this movie alone, like most movies it will be more fun watched with others. Those people don't have to be thinking about it as a learning exercise, but you could gather a couple of friends and use the questions above to start a great conversation after the movie is completed. With the recent passing of Robin Williams, they won't even suspect you have other reasons!
In fact, you could gather a group of peers or a team of leaders and watch the movie together – which would provide a chance to create mutual learning and understanding.
If you have comments about the lessons you have learned from this movie, I'd love for you to share them in the comments below.