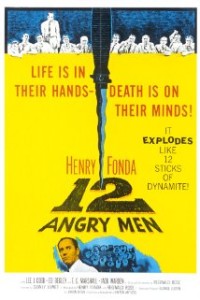 I'm going to do something a bit different here this week.
Typically in this space and time I recommend a traditional learning resource to you – a book, teleseminar, workshop or perhaps a website. Today I am going to recommend a movie and give you a few thoughts about how to watch it for more than just the fun of watching it – how to learn from it as you enjoy it.
12 Angry Men is a classic movie released in 1957 (there was a remake done in 1997 which is very close to the original, but watch the original if possible) and is based on a play of the same name. The movie is about a jury deliberating a case that is initially seen as an open and shut case – in fact some of the jurors mention that they ought to be finished in time to go to the ball game, but it doesn't quite work out that way.
All but about 3 minutes of the movie takes place in the jury room – which makes the movie different from most you will see and adds to the drama, making you feel like you are in the jury room yourself. The movie is also notable for the number of stars and future stars in the cast, including Henry Fonda, Jack Klugman, E. G. Marshall and more.
Since I'm not writing a movie review here, I won't say any more about the movie except that you will enjoy it (I've never mentioned it to a person or group and had them tell me they didn't like it). As you watch it or re-watch it though, I encourage you to look for some lessons that you could apply in your life and work.
Rather than telling you what you will learn, let me just give you some filters to watch the movie through – by this I mean some themes you might notice that you could apply to your real life and real work today (even if like me, you hadn't been born when the movie was released).
Filters to Consider/Questions to Ask Yourself
What can I learn about group dynamics and consensus building?
What can I learn about meetings?
What do I notice about differences in personality?
What prejudices impact my work or the work of my team?
What leadership lessons do I see here?
In what ways does this remind me of my work?
Final Thoughts
While you can watch this movie alone, like most movies, it will be more fun watched with others. Those people don't have to be thinking about it as a learning exercise, but you could gather a couple of friends and use the questions above to start a great conversation after the movie is completed.
In fact, you could gather your team and watch the movie together – which would provide a chance to build some team rapport as you discussed the movie afterwards.
If you have comments about the lessons you have learned from this movie, I've love for you to share them in the comments below.