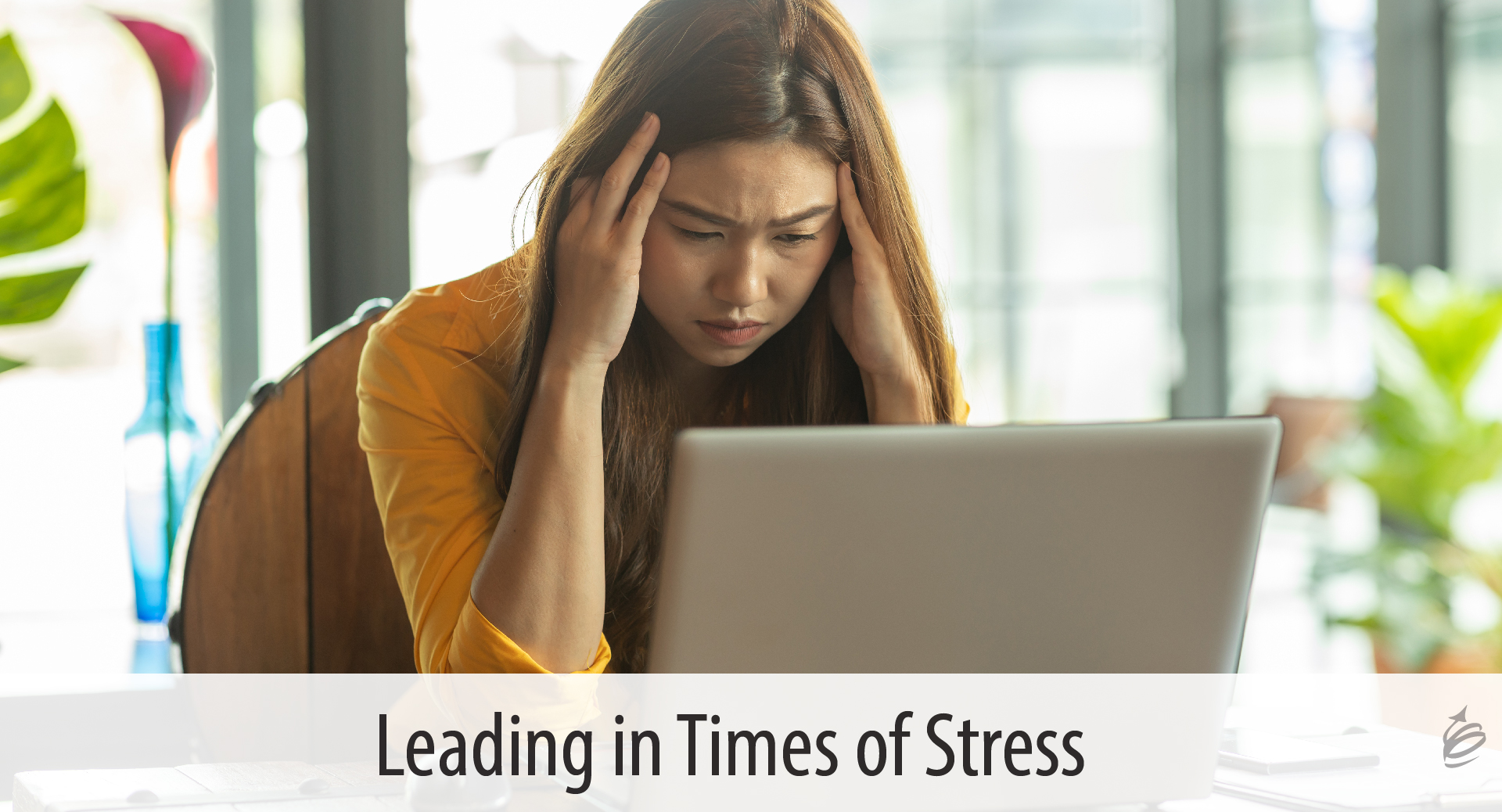 Have you ever had to lead when things were stressful? Have you ever felt stressed, yet still needed to lead effectively? If you have led for any length of time, and certainly if you led during 2020, you have experienced this! The fact is that leading in times of stress is a realty all leaders must face. Here are some ideas to help you succeed in spite of the stress.
Recognize the Stress
Sometimes in the midst of a situation we don't realize how stressful it is – we are just heads down, doing our work. As noble as that might sound, we need to be more self-aware.  We cannot do any of the other suggestions on this list if we aren't aware that the situation is different, more complex and perhaps with higher stakes than normal.
Acknowledge the Impact of the Stress
Once you know that your situation is more stressful than normal, it is important to remember that denial isn't a good strategy. Simply wishing away the stress likely won't work.  You don't have to be Wonder Woman or Superman – it is ok to acknowledge that you are stressed and that it is having an impact.  In fact, when you can name and acknowledge the stress you are feeling you are taking a positive step in dealing with it. Additionally, your recognition of the stress will help you lead by example – your denial could lead to the team's denial as well.
Remember Your Blind spots
You know how you respond when stressed. You can make that list, and please do.  Whether you get agitated more easily, talk too quickly, yell too often, or become reclusive, know your "tells".  When you see yourself acting in those ways more frequently take that as a sign that you need to apply some approaches to reduce your stress. If you have a trusted advisor who can point these behaviors out to you, please ask for their help.
Check Your Decisions
Decision making is an important part of our leadership role – and something that is often impacted by our stress level. Once you know you are feeling the stress of a situation, consider the following:
The decision-making process. Am I involving the right people in and getting the right perspectives on my decisions? Often in stressful times people making quicker decisions and don't benefit from the insights of others.
The decision itself. Is this the right decision? Stop and take a deep breath (which will help with your stress to start with), and look at your decision again – have you considered the right factors, and will this decision be successful?
Have a Safety Valve
Pressurized tanks have a safety valve designed to let off some pressure to keep the tank safe and intact.  You need a safety valve too.  That could be a hobby or physical activity.  It could be journaling, or it could be a person (not on your team) that you can vent to, to relieve the pressure you are feeling.  Your safety valves will help you relive pressure, but likely give you a new perspective on the situation will may help further alleviate the stress you are experiencing.
Remember What Mom Taught You
Leading is hard enough when things are going smoothly. Are you getting enough sleep, eating well, and taking care of yourself physically?  If so, you will be better equipped to deal with the additional stress, and will be taking positive steps to help reduce it at the same time.
These six actions will help you in the inevitable situations when you are leading in times of stress.
….
What could be a better way to equip yourself for your leadership journey than by joining me for the From Manager to Remarkable Leader learning experience? When you do you will virtually join a small group of leaders, who like you want to learn and apply cutting-edge ideas grounded in and connected to timeless principles. This six-session virtually delivered learning experience is packed with insights and opportunities to learn from me and your peers too. Learn more, find dates, and get registered here.
If you are looking for a low-risk way to try this workshop for your organization, check this out to see if you qualify.