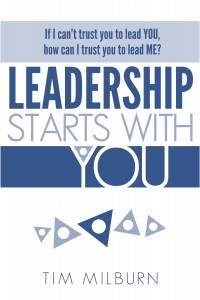 I've known Tim Milburn for several years, through email, social media and the phone. I have never met him, but I know him.  And you will know him too when you read this book.  He has written several books, not to get rich or famous, but to share his views and learning and to inform his passion for developing student leaders.  Tim works as the Director of Campus Life at Northwest Nazarene University, located just outside of Boise, Idaho. His main role is to develop leadership opportunities and advise the students who fill those positions.
These are some lucky students and I hope they know it.
The subtitle of this 115 page book is "If I can't trust you to lead You, how can I trust you to lead ME?"  It is a good question and it informs the reader of the journey they are about to embark on – a introspective and, if taken seriously, occasionally stark look at ourselves and our personal leadership.
Tim weaves personal stories with pointed questions for us to ask ourselves about our own leadership journey.  There is great stuff about time and choice management, about learning and growth, about responsibility and more.
He does more than raise good questions, he shares some of the tools and practices that he uses. Chances are some of these will be more instructive or useful to you than others, but all are valuable.
Given the brevity, I looked forward to reading this book in one sitting, but I was unable to – it raised too many questions for me to ponder.  I had to stop and think and journal, not just keep reading!
It is well written and well intentioned. And (at least today) you get all of this from Amazon for just $6.99 (or $3.99 on your Kindle). At these prices, it is, by far, the best value in leadership reading I've experienced this year.