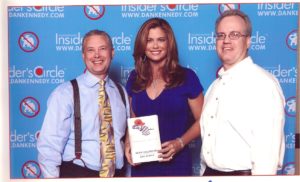 Last Saturday I had the opportunity to hear Kathy Ireland speak, and as the picture proves, meet her and give her a copy of From Bud to Boss.
Most know Kathy as a supermodel and actress.  Fewer realize she is the active CEO of Kathy Ireland Worldwide, a $1.5 Billion enterprise doing business, well, worldwide.
While she is beautiful, the lasting memories I have of her are wisdom and inner beauty.   I hope this post gives you a glimpse of what I mean.
Admittedly, I listen to a speaker with impressive achievements through my leadership filter, and it wasn't hard to find leadership lessons her her talk.  Here is a partial list of the lessons I took from this true leader and some challenging questions for you.
Gratitude. Throughout her talk it was obvious, and clear again in the brief moments we talked, Kathy is grateful.  Gratitude is a powerful personal – and leadership – characteristic.  How grateful are you?
Humility. Kathy is humble.   When you think about all of the things she has achieved, all that she has experienced, I suppose that might not be what you might expect. Yet at every opportunity she talked about her team and those around her, giving them credit for her success.  She is willing to roll up her sleeves and do real work.  She sees a "we" world, not a "me" one.  Maybe this shouldn't be so surprising after all – think about it, she has succeeded in multiple worlds, and no one can achieve consistently alone.   Do you have a healthy humility?
Accountable. One of the best quotes in my notes:  "Excuses are so undignified and don't absolve you anyway."  How many excuses are you making . . . for yourself and your team?
Determined. While she said she was never seen as the most beautiful of the supermodels (Who knew?), she took her work seriously.  She told of, in the early days of her business, sleeping in the airport to save money when visiting vendors.   How determined are you?  What are you willing to do to reach your goals?
Values Driven. Kathy spoke in a respectful yet open way about her religious faith and shared some of the work she and her organization do for causes around the world.  She also spoke about about the challenges and importance of being a mom and wife. (Happy Mother's Day, Kathy).  My friend and colleague Becky Robinson did a much better job discussing these lessons than I did in her blog post.  Are your values clear by your actions?
I encourage you to think about those five lessons for you as a leader.  Thanks Kathy for helping me think about them.