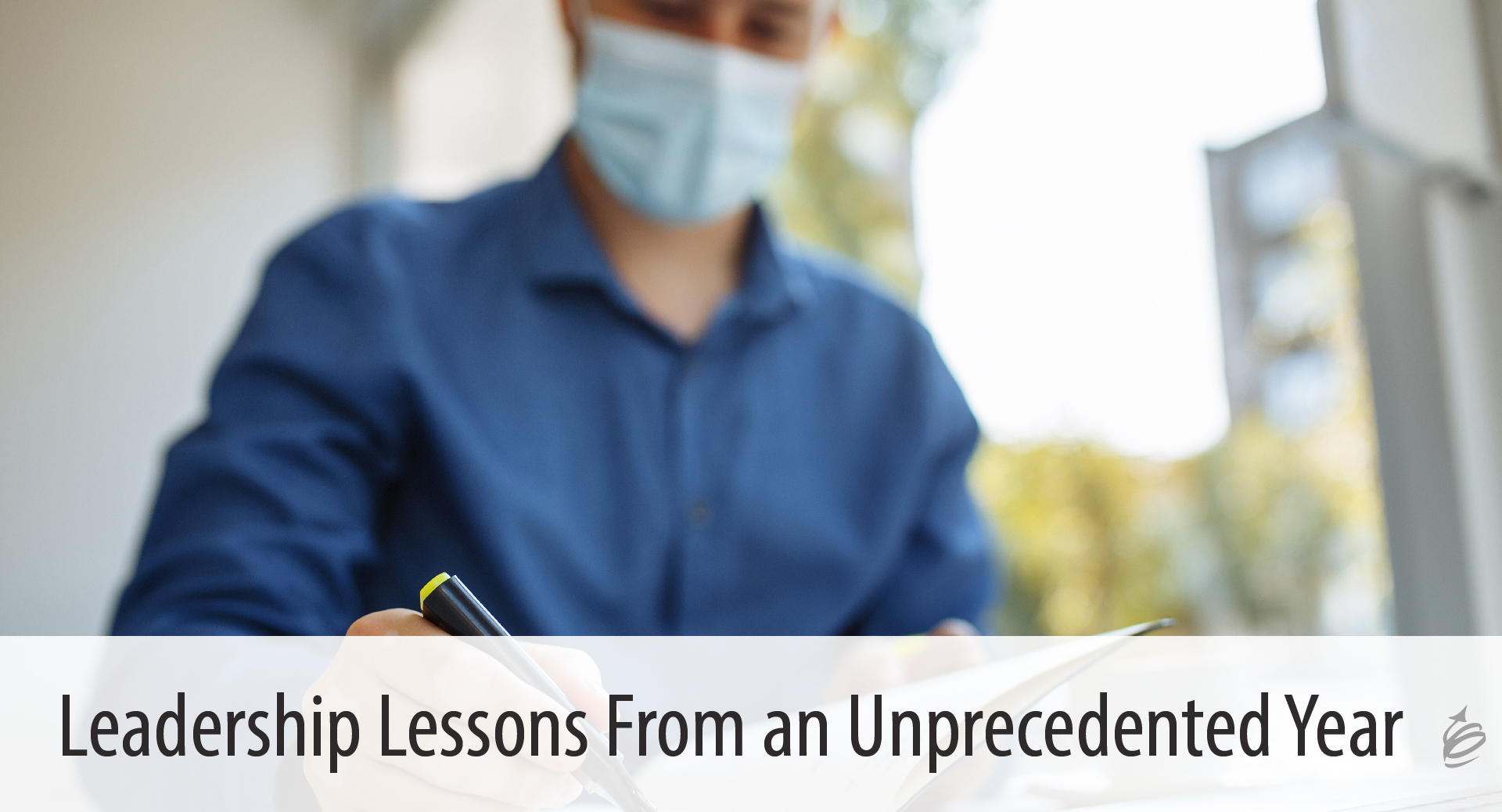 No one predicted what happened this year. Our vocabulary expanded, our world view was altered, and for many, the way we work and where we work changed. While some would like to forget 2020 and just move on, wise leaders know there are rich lessons to be found in challenging and painful experiences. I've done my reflection, and these are some of my leadership lessons from the pandemic.
None of these things became true in 2020 – they were already true.  But each became more important, and if we were watching, more apparent, during a year of tumult and a significant change in how and where we worked.
We Must Engage Hearts (because people are more than their hands and heads)
It is no longer enough to supervise and direct.  People bring their whole selves to work, if we help them do so.  We must take the time to know and understand those on our teams. As we learn who they are and what they need we can appreciate them and their situation better. Doing that encourages people to blossom in their work and help them find meaning in their work and meaning matters.
Doing this isn't just nice – it allows people to work more effectively and productively and be more loyal to your organization too.
You Can't Have All the Answers (and that is ok)
Leaders often pressure themselves to know everything and have all the answers. If you didn't know that to be an impossibility before this year, it should be clear to you now. One of the leadership lessons of the pandemic is that not having all the answers is ok – and in fact when you let go of your need to know it all, you can then ask the group to find answers with you.  When we do that, we will get more ideas, typically better ideas, and far more commitment.
Ask people their opinion more often.  Engage them in decisions about how to do things.  When a new situation arises, simply ask – "what you think?" or how do you think we should handle this?"
Self-care isn't Selfish (in fact it is critical)
Simply stated, if you aren't at your best, you can't give your best to others.  Make sure you are getting enough sleep, eating well, and doing all those things mom taught you.  Beyond that, make sure you are taking time for yourself, tending to your own development and more.  Chances are that you are wisely encouraging those things in others.  But if you aren't setting the example with your actions, your words will ring hollow.  Which relates to the next lesson …
Work/Life Balance Starts With You  (because you impact everyone more than you realize)
Work/life balance has been hard for many for a long time. Now that there is no tangible physical distance between our work and the rest of our life, the two have blended together even further. The longer people work from home, the bigger this issue is becoming. Yes, as leaders we can engage people in a conversation about this (and please do), but more than that you must take the balance seriously for yourself and model it for the team.
Here is a simple example: you want to catch up on your email on the weekend. As you clean up your email, the emails you send arrive in the inboxes of your team. When they see them they will likely reply. After all they don't want to get behind or be the only one not responding.  And in that moment, the line between work and life is blurred further and the balance is altered – and not in good way.
People Can Adapt and We Can Help (even when it is hard)
Too many leaders feel their team members are unwilling or even unable to change.  This year proved that worldview wrong too. No one predicted or wished for the pandemic, but once it arrived, people worked to adapt. The circumstances were hard, but the need was clear.  A leadership lesson from the pandemic is that when we help people see a picture of the need, and then support people in making the change, through resources, time, and support, successful change can and will take place.
Communication is More Important Than We Know (even if you already know that)
Now your team is dealing with all of the pandemic and shutdown issues and doing their work too.  That means the amount of communication needed is probably increased. So even if you are having more (perhaps too many) meetings, there probably isn't enough communication. When we work remotely the lack of the incidental and accidental communication means we must be even more intentional about making effective communication happen. Remember three things:
Communication is two-way. I'm not just talking about what you need to tell people, but what you need to hear from them too.
We must use more platforms for our communication. Popping into their office isn't an option, and so we must use all of the communication tools at our disposal more effectively.
Each communication carries more weight. With less interactions, each one matters more.  Work on communicating each message more effectively – it will make a big difference more quickly than you realize.
While I hope you found this list helpful, and I really hope you will apply these lessons, finding your own lessons are critical too. Ask yourself, what are my leadership lessons from the pandemic? Your answers and your resulting actions will make you a better leader whatever the future holds.
As leaders, we are also humans – not all of your lessons will be solely leadership ones. As you consider your personal lessons from the pandemic, here are some of mine.
….
To grow as leaders, we must reflect and learn from our own experiences, and reach out to learn new skills and perspectives, too. When you join me for the From Manager to Remarkable Leader learning experience, you will get cutting-edge ideas grounded in and connected to timeless principles. This six-session virtually delivered learning experience is packed with insights and opportunities to learn from me and your peers too. Learn more, find dates, and get registered here.
If you are looking for a low-risk way to try this workshop for your organization, check this out to see if you qualify.