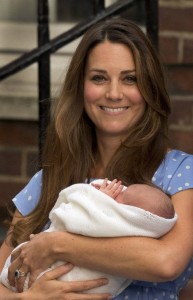 Unless you have been in the woods or you live under a rock, you know that Britain's Royal Baby has been born. He is third in line for the British throne and, as of this writing, has no name. Because of this, and as some headlines have read, you may think that a leader was born this week.
This couldn't be further from the truth.
Yes, this baby will likely someday become King.
But having a title doesn't make one a leader.
Yes, he will get every advantage. He will have experiences and schooling and opportunities to learn skills that would serve him in a leadership role – but still, not a leader yet.
History (and your personal experience) is littered with people who had titles of leadership, yet didn't lead successfully.
I'm not saying this infant can't become a great leader – I'm simply saying it isn't a guarantee.
Over the years I have often been asked, "Are leaders made or born?"
My answer has always been, "Yes."
Leaders are born in that all of us are given strengths and natural tendencies in our  DNA  that we can use and leverage to become a successful leader. Since there is more than one way to be an effective leader, we can use who we are to move in that direction. And it doesn't happen automatically.
The skills of leadership are exactly that – they are skills – which means they can be learned. And these skills are varied and complex, which means they must be consciously and continually learned if you want to be a successful leader.
The royal baby has some advantages that some of us might not have in becoming an effective leader. Yet, birth alone isn't enough. History will tell us how it goes, but what we can know for sure is that if the yet-unnamed prince becomes a successful leader, he will have worked at it.
Leadership is verb (it is things we do), not a noun (a title we have).
Even if you are a royal baby.
If you are looking to build your leadership skills in a consistent and ongoing way, please take advantage of my free leadership gift to you.