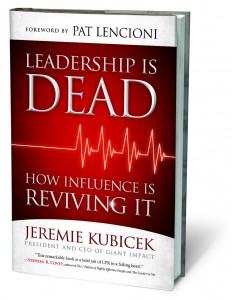 Today's Resource Recommendation is Leadership is Dead: How Influence is Reviving it
by Jeremie Kubicek.
As a leadership speaker, trainer and author, I must admit, the title shocks me, which is good. As a marketer I realize the value of the title, and I further recognize that the subtitle tells the further story about the premise of this book.
This new title in the leadership genre is about leadership, about influence, and in the end about your beliefs and goals.  It asks some hard and potentially uncomfortable questions about your motivations for being a leader and where your focus really is. For example, the author suggests that people are asking this about you: "Are you for me, against me or for yourself?"
Further, Jeremie says, "It's not that leadership itself is dead, it's the way in which many choose to lead that is." The book then is a heartfelt and passionate treatise on, and game plan for, leadership as influence. More directly, Jeremie says that to influence successfully we must become selfless and other focused.
I agree completely with the perhaps counter-intuitive approach. As leaders, we are truly in the influence business. To influence most successfully we must focus on the needs, desires and goals of others. The book describes well why this approach and mindset is the only way to true impact and is the mark of all highly influential people.
While the premise of the book is strong, the writing works for me too. It is authentic and real. Being able to say when finishing a book that I feel I know and like the author is among the best complements I can give about writing style. I learned from and was challenged by this book.
If you want to continue your study of leadership and influence, you will want to read this book.
Final note: You can learn more about the book and take advantage of some special offers when you purchase a copy here.