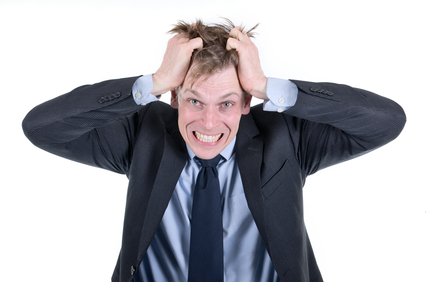 There are at least two definitions of the word insanity: the one in the dictionary, and the clichéd we've all heard, used, and knowingly nodded our head at when hearing it.
First, from Merriam-Webster:
Insanity
1. a deranged state of the mind usually occurring as a specific disorder (as schizophrenia)
2. such unsoundness of mind or lack of understanding as prevents one from having the mental capacity required by law to enter into a particular relationship, status, or transaction or as removes one from criminal or civil responsibility
3. extreme folly or unreasonableness
And second, the clichéd definition you thought of a second ago:
Insanity – doing the same thing again and again and expecting a different result.
I contend there are lots of leaders who are insane every day – it isn't because they are deranged or schizophrenic. It might be because they appear unreasonable, but if that is true it is because they literally are expecting new results from the same repeated actions.
And let's be clear, as leaders we must be about "different results":
We want our team to grow
We want our team to learn
We want higher productivity
We want higher safety
We want higher quality
We want more profits
Etc!
I could go on (and on), but the point is clear – as leaders, we must always be about moving people and results to a different/better place than they are currently.
But there is a whole lot of status quo all around us, isn't there?
And the fact is that if no action is taken, no change will occur. This leaves us as leaders with three choices.
Decide what you want to be different and take ownership.
– Once we have ownership, we ask ourselves, what could we do that might change the result? And then we take action on the answer.
If the change isn't important enough (a high enough priority), let it go.
– Which means really let it go – don't worry about it, don't be concerned by it, don't feel guilty about it, and consciously decide to take no action.
If you don't really make either of those choices, you are left with the cliché – you want it to be different, but you aren't doing anything, so it doesn't change. And, when this third "choice" is made, it may lead that leader to the dictionary definition of insanity!
As a leader, the choice we make from the options above have far-reaching implications. It isn't just how the choices make us feel or the results we get personally, but these choices, consciously made or not, impact our team too.
When you make the first or second choices, you are taking ownership and being accountable. Not only will you get better results, but by your actions you will be coaching your team to do the same. Your accountable choices, beget more of those choices in the rest of the organization, and we have, almost by true definition, a more sane, reasonable, effective workplace.
On the other hand, making the "choice" to do nothing (but still wanting change) will be replicated by your team also. And if you have ever had a boss who made this choice, you also know your work-life and productivity is immediately and significantly impacted by their choices.
So we are where we started – a leader wants something different or better – and to get it they must choose to take action. When we make the accountable choice to take action when it matters, we will automatically avoid insanity and create something better for the future.
Choose to act – it is a leadership job requirement, and an antidote for insanity.