Two very different television viewing experiences nearly forty years apart led to this post.  One happened 39 summers ago when I, along with 60 other campers at Camp Brethren Heights in central Michigan, were ushered into a room with a small black and white television to watch history – President Richard Nixon was going to announce his resignation.  At 12 I knew enough to know this was a historic event, but I certainly couldn't grasp all the reasons why the President had gotten to that point.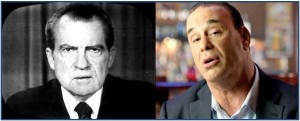 The other comes from my latest television discovery.  It airs on Spike TV and is called Bar Rescue.  The premise of the show is that John Taffer, a respected consultant in the nightclub and bar business (whose bio says he has owned, flipped or rescued over 600 bars), goes into failing bars and helps them, in five days, prepare to be more profitable.  I watch it on a 42" television in my living room, and while it isn't an historic event, it is interesting and entertaining.
You'd think there would be nothing in common between the two, and on the surface, you'd be right.  But you don't have to go far to find a clear connection.
That connection is leadership hubris.
Hubris is defined by dictionary.com as "excessive pride or self-confidence; arrogance."
Our former President felt he was above the law, that taking whatever steps necessary justified getting to his desired outcome of re-election.  While the history is complex, it is hard not to see hubris as at least part of the problem.
On Bar Rescue, operations have gotten to a sad state of affairs, and while the location, bar concept and situations may vary episode to episode, the most common problem across all the episodes I've seen is a large case of hubris.
Leaders/owners feeling they have the answers.  Leaders feeling the problems belong to someone else not them. Leaders doing more of the same and expecting new results.  Leaders holding on to the past (whether successful or not) and too proud to change . . . anything.
Hubris.
In the show, while a bit rough in language at times, most owner/leaders come to see their problems as largely theirs, and those that appear to be on the road to a more successful future, make changes in themselves first, knowing that is the necessary first step.
And they don't get there alone.
The challenge of hubris is that it is often a strength overdone.  Do we want leaders who are self-confident and with a sense of pride?
Of course we do.
The challenge is when self-confidence becomes cockiness, arrogance, and vanity – when the focus moves from the accomplishments and the team, to self.
Of course you don't have to read the history books about Watergate or turn to Spike TV on Sundays for a Bar Rescue marathon to see hubris – it is easy to see in others.  Unfortunately it is often quite hard to see in ourselves.
And it is one thing to observe it, but quite another to overcome it.
Because it is hard to see in ourselves, the best way to overcome it is to have someone else to hold the mirror up to you and your actions; someone else to hold us accountable for our actions and results.
As a leader you need a coach.
And because some of what you might hear could be hard to take, I recommend that your coach is paid – because when you pay them, you are less likely to ignore their perspective, and more likely to hear what you most need to hear.  And writing the check makes it harder to ignore it.
On the show, in most every case, employees see what Taffer sees and as the consultant/expert/coach shares with the leader, the leader can't see or hear or acknowledge it from those closest to them.
While there are many good reasons leaders should have a coach, avoiding or overcoming hubris is one reason.  If you aren't getting the results you want, if you are frustrated because what used to work isn't working any more, or even if you feel you have no one to talk to about your challenges, perhaps it is time for an outside perspective.  Perhaps you need someone to hold the mirror up for you.
It may be time for a coach.
A final note – we offer coaching services and would be happy to discuss our leadership coaching services with you (you can fill out the form at the bottom of the page and we will be in touch) – but most importantly, if you want to overcome the risks of hubris – and move closer to your potential as a leader, find a coach and use a leadership coach.