By Phillip Barlag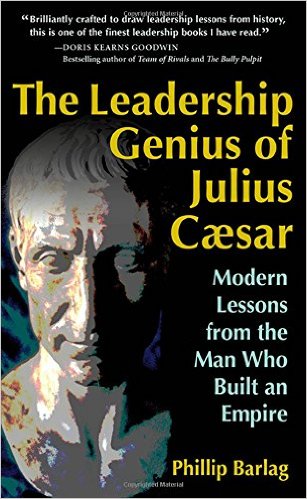 Julius Caesar was a leader for the ages. And while much has been written about him, it is mostly all written from the perspective of his life while he was alive. This book is a biography, of sorts, but it is much more that that because the author takes Caesar's actions and looks at them in the context of today's world of teams and organizations and helps us answer this question – What can we learn from Caesar about leadership?
Quite a lot it turns out.
The author, Phillip Barlag, opens the book almost apologetically saying that this isn't a true biography and that historians may be disappointed by the lack of a chronological path and some important things that are missed. All of this though, is good news for us as readers and students of leadership.
Those "weaknesses" make this slim book very readable and immediately both thought provoking and actionable by us as leaders.
My highlighter came out for the first time in the preface when Barlag wrote: "Human nature doesn't change much at all. We have basically the same 'operating system' as the people in Caesar's day. The only thing that has changed between then and now is the social context." I agree with this point and that idea permeates the value this book can have for you.
If you are a history buff and a leader, this book is a must. If you are a student of leadership and read this, you might find history a bit more interesting when you are done.
Special note: I had the privilege of having the author as a guest on The Remarkable Leadership Podcast. If you missed it, you can listen here.