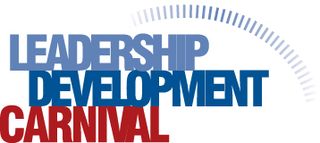 Here is our second installment of our Leadership Development Carnival.
Today I want to start out by featuring some great new leadership thinkers who have not been previously highlighted in a Leadership Development Carnival. If their blogs are new to you, I hope you'll take a moment to comment on their posts, retweet a link to their posts, or find some other way to encourage them.
First Timers to the Carnival
Do you enjoy multi-tasking? Sara Jane Hope challenges the idea that multi-tasking makes you more efficient by sharing a story in her post "Multi-tasking is effective and efficient! Really?" at her blog, Positive Dimensions.
Jason Lauritsen encourages us to practice accountability, writing "Being accountable means that you own the outcomes of your actions (your results), good or bad, without excuse and without exception," in his post "The Accountability Contagion," at Jason Lauritsen: Transforming Business through Talent.
Are you seeing what really is? Lolly Daskal offers great questions for reflection in her post, "Suspend Your Seeing," at Lead From Within.
Dave Ryan shares his thoughts about what will be needed to lead HR into the future in his post, "Leading HR: What's in Store?" at H.R. Official.
Melanie Hoffner invites you to share resources on the topic of applying brain science to leadership in her post "Applying Brain Science for Leadership," in her post.
Great Posts from Veteran Contributors
The assumption that you matter is critical for leaders. Dan Rockwell outlines "Five Techniques that Make You Matter Most" in his post at Leadership Freak.
Bret Simmons presents "The Vice of Ingratitude," highlighting the importance of developing gratitude as a character strength in our lives.
On the same topic, Susan Mazza cooks up "A Recipe for Appreciation," at Random Acts of Leadership.
From her personal blog, Meg Bear presents "What Does Your Language Say About You," stressing the importance of using confident language as you progress in your career.
You'll enjoy this reflection from Eric Pennington about the lessons he's learning as an entrepreneur and how he sees his choices affecting his son. Great leadership lessons for parents in "My Entrepreneur Path and My Son," at Epic Living.
This is day 2 of our Extended Leadership Development Carnival. We've featured 20 fantastic posts so far and we have many more to share.
If you missed the first installment, you can read it here. I hope you'll come back tomorrow for more great posts!