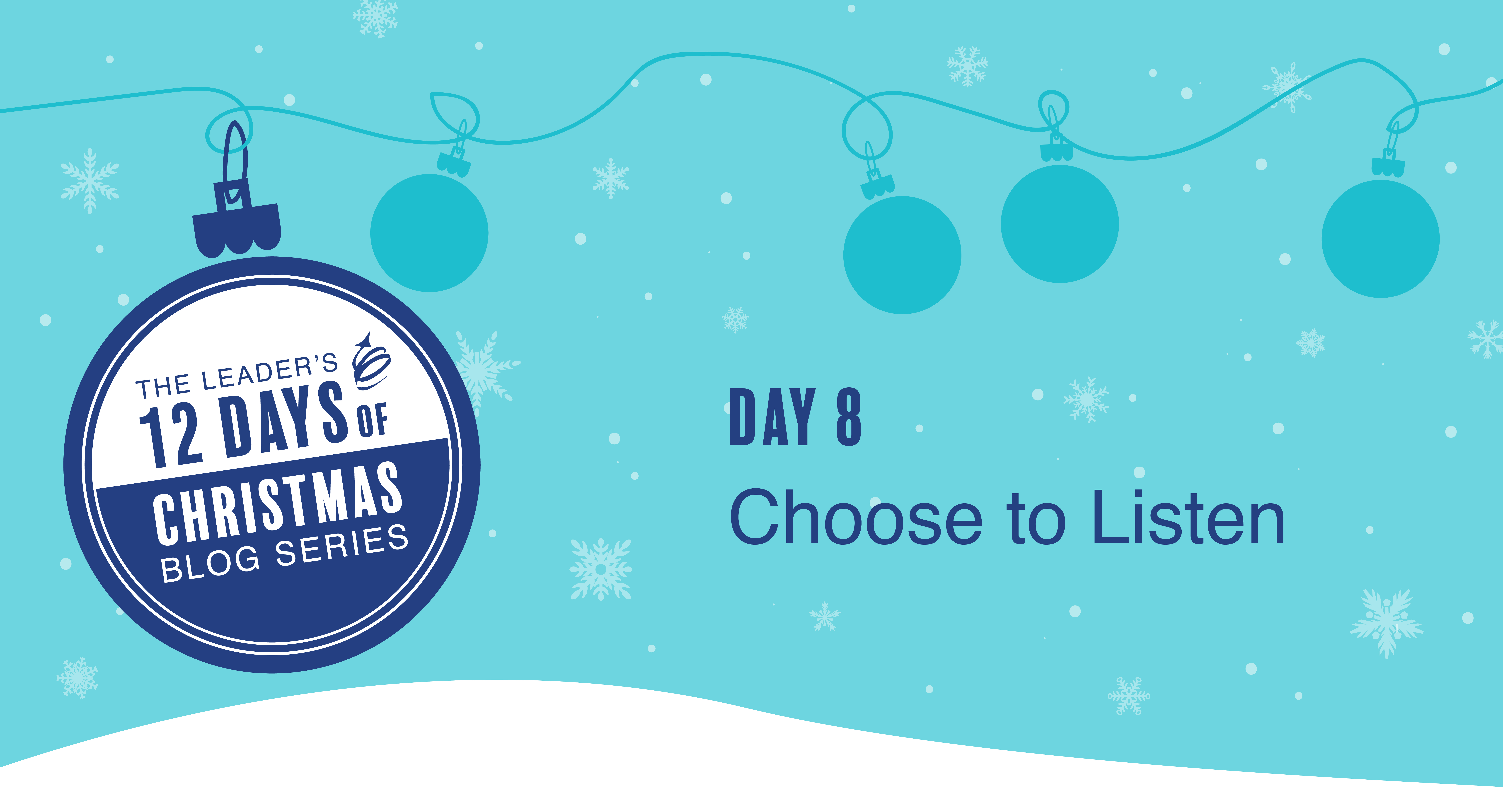 Last Monday, I offered a shopping list of gifts leaders could give this Christmas season. In that post, I promised to detail each of these gifts as a part of a 12 Days of Christmas series. For Day 8, the shopping list suggests you listen more and more effectively.
Think of a time when someone really listened to you.  They dropped what they were doing, looked you in the eyes, spoke only to further understand your perspective or be helpful to you, and were completely present with you.
Chances are you didn't have hundreds of memories flowing through your mind as you thought about that situation.  You had a couple or a few.
Now think about the person or people you thought of in those situations.
How did you feel about them in that moment?
How did that interaction impact your relationship with them?
How would you characterize your level of trust with them?
Listening is more than a nice thing to do, and it is more than a pragmatic and polite way to assure communication.  The act of true, deep, active listening shows that the listener cares about more than just the message, but cares about and values the messenger.
When the listener is a person in a place of power or position over the speaker (like you are as a leader), the act of being fully present and listening carries even more weight and happens far too infrequently.
If you want better relationships with your team members, if you want higher levels of trust with them, and if you want to build the confidence of your team members, the gift of listening might be the best gift you could ever give – regardless of the time of year.
Notice too the title of this piece. I am saying that the gift is to choose to listen. You know listening is a choice, it becomes a gift when it is intentional.  Make the choice to listen and listen more intently today, and you will be giving a gift far more meaningful than you might realize.
Who will you give the gift of listening to today?

What it takes to lead more effectively can often be simply stated but take a lifetime to master – and it requires more than a knowledge and awareness of the skills. That's why we've created an ongoing leadership development experience that explores more than just skillset, but also mindset and habitset. If this post resonated with you, I urge you to learn more about The Remarkable Way.